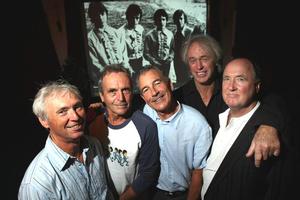 One of the most unexpected but interesting local music stories this year has been the resurrection of the Fourmyula, the Upper Hutt band which cracked a few singles in the late 60s (among them the glorious Nature), made two forays to London and broke up in 1971.
For most, this five-piece would be a footnote in Kiwi pop - but with the acclaim accorded Nature and the new four-CD set of all their albums (which includes Turn Your Back on the Wind, recorded in 70 but unreleased until now) the Fourmyula are enjoying unprecedented interest.
And so, four decades on, they reformed for two concerts in Auckland on Thursday, and hometown Upper Hutt tonight.
Certainly there were wobbly bits and fluffed notes (dismissed with a laugh by all), and not everything in their lengthy set (almost 30 songs) was a gem or even a rough diamond.
But when they kicked the levels up on Please Take Me, Up Country City Down and You've Lost Your Woman (which owe debts to the Small Faces) here was a band having fun and delivering great power pop and rock.
Driven by Chris Parry's staccato and drilling drumming, coloured by Wayne Mason's keyboards and guitars, and embellished by harmony vocals from Mason and sterling bassist Ali Richardson, this was classic - if largely overlooked - Kiwi music.
In a better world Otaki (where "people turn on") would be our Eagle Rock.
Up-front singer Carl Evensen had the unenviable task of replicating a voice from 40 years ago, but did it with remarkable consistency, especially on the throat-searing rock.
The band - which, unusually for the period in New Zealand, wrote their own material - had a default position of country-folk rock, and while those songs were often affecting (Turn Your Back still beautiful), it was on their hits (Come With Me, Alice is There) when guitarist Martin Hope unleashed sharp solos alongside Mason's power chords that this took flight and decades disappeared.
Much of their music is forgivably of its time, punctuated by 60s English whimsy (the Small Faces' Itchycoo Park as much an influence as their Tin Soldier) but they weren't too embarrassed to drop in the throwaway Mr Whippy.
And on a night of wide smiles, huge applause and some Kiwi classics it was to their credit they didn't finish with a crowd-pleasing Nature but rocked on.
Curiously, the Turn Your Back on the Wind LP is finally coming out on vinyl so if they ever do this again, they could honestly say, "Here's a song from our new album".