What: From Here to There with the Royal NZ Ballet.
Where: Aotea Centre, until Saturday.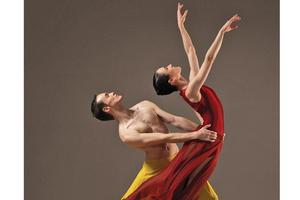 The Royal New Zealand Ballet's triple bill seasons are always an opportunity for dancers and audiences to explore new territory.
From Here to There is a ravishing progression in that process, a beautifully balanced programme of contemporary works that embellish and extend the classical tradition and showcase the company in exquisite form.
Christopher Hampson's Silhouette to French composer Francis Poulenc's Concert Champetre is first, with the women stunning in black or white tutus and the boys sleek and lithe in dramatic two-tone unitards. The black and white theme echoes the keyboard of the dominating harpsichord, the lines are crisp and geometric, the choreographic shapes crystal clear.
Dancers arrive and depart the stage magically by a subtle system of moving side panels and clever lighting.
The work, rich in clever references, perfectly reflects the tumultuous juxtaposition of the music, and demands much of the dancers, all of whom deliver - in spades.
Clytie Campbell is The Ballerina, Tonia Looker an exquisite "Degas girl" and newbie Paul Russell the standout in the male lineup which is looking exceptionally balanced and strong.
Andrew Simmons, in his third commission for the RNZB, has a hard act to follow, but A Song in the Dark is far from overshadowed by what has gone before. In complete contrast to Hampson's piece, Simmons' work extends his lyrical and precociously distinctive voice in a study of "love, opportunities lost and finding the beauty in the ordinary".
Set to a selection of music by Phillip Glass and gorgeously costumed in black and foresty greens, Simmons' Song is breathtakingly tender, hypnotically beautiful, wondrously absorbing - you never want it to end.
A young New Zealand-born choreographer at the very start of his career, Simmons is certainly a star rising.
We have seen David Dawson's internationally acclaimed A Million Kisses to My Skin before - and will want to again. It sits in this programme as a rich and deeply coloured finale. Set to Bach's Concerto No 1 in D minor, Dawson has stated his aim in creating this work was to make the dancers feel they were in a state of complete bliss. Not just the dancers, Mr Dawson. We all were.