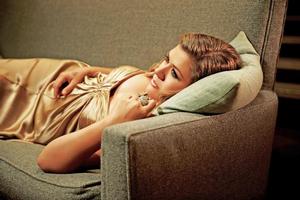 American Idol set her up for a successful music career, but if it wasn't for a teacher who heard her singing in the hallway at school, the world may never have got to hear the 27-year-old Texan.
Where do you think you got your voice from?
Honestly, it's God, because no one in my family sings. They can sing along to stuff but not in key. So I don't really know. I don't understand it. And it's not like I grew up around people who played in bands either. But I think from a very young age I didn't really have anything unique about me, but then somebody heard me singing in a hallway at school and I just clung to it because I love music.
It's been a long time since Idol, so how have you changed since then?
There are positives and negatives. I'm more business savvy - and I know a lot more about why people make the decisions they do. But in a negative way it can be very jading when you work with a certain type of personality who just keeps hitting you in the face.
But these days I know what people really mean when they are saying something else [laughs]. Musically though I don't think I've hit that maturity mark yet. I still want to do a whole lot of different stuff. I'm writing a lot for my next album at the moment and it's stuff that I normally wouldn't do. I'm thinking outside the box a lot more.
Do you think you would have cracked the music business without Idol?
I think I would have definitely done back-up singing for artists, so I guess I would have sung, but I don't know if it would have been like it is now.
Do you ever get sick of singing Since U Been Gone [her biggest hit from 2004]?
Not at all. I always look forward to that song because everybody else sings it. It's the karaoke song of the night. Everybody's wailing on it [laughs].
What makes you stand out from other pop stars? Because it's a fickle business.
I really don't know. I do have a good team on the road, especially while touring and I think that's why a lot of fans stick with me because I tend to tour a lot. And these days the people who are more inclined to be true fans are the ones coming to the live shows. I just hope I can keep that going because I think a big part of my appeal is that it is a different kind of thing when you come and see me live. Everyone always says it sounds different from the record. And my band, I've been with them all for years, they are phenomenal musicians and we do a lot of different stuff, change it up, make sure the audience are involved, and do some cool covers.
How do you choose which covers you are going to do? You've been doing Seven Nation Army lately.
I just pick songs I've always wanted to sing. And I try to pick styles that are missing from the show. I don't get to record a whole lot of bluesy stuff, mainly because that's not mainstream, and I already have to fight enough battles [laughs], so most of the time they are really blues songs. Or maybe it's a lyric that has stuck out for me and I want to perform. So at the moment I'm doing the White Stripes, the Black Keys, Kings Of Leon, and Patsy Cline. It's all over the map.
What can we expect from the show?
The evolutionary thing for this show is that I've worked with a guy called Roy Bennett who has worked with everyone from Prince to Nine Inch Nails and a bunch of other huge artists. What's cool about him is that it's all catered to the individual artist so it complements the songs.
And what does the future hold for you?
I'd really like to do Broadway, because I've always loved theatre since I was a kid, but I don't want to live in New York so I don't know how that's going to happen. But I really just see myself touring and making albums. People keep asking me if I want to do perfume and clothes and stuff, but I have no desire to do it. I've got enough on my plate, so why add to it?
* Kelly Clarkson, Vector Arena, April 11. Latest album, All I Ever Wanted, is out now.