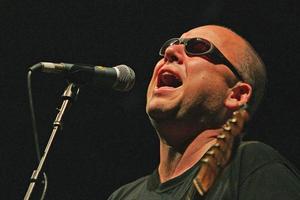 They were 20 years late, and playing an album they wrote as 20-somethings, but the Pixies finally made it to New Zealand last night for their first show.
The tour is in celebration of the 20th anniversary of that album, Doolittle, and this intimate show was a precursor to the sold-out Vector Arena concert tonight.
There was never any doubt the songs would sound as fresh as they would have if the Boston band had made it here first time round. Doolittle is a classic.
And the B-sides, such as Mantaray - with which they start the show - and the long list of favourites as an extended encore, sounded as original, strange, and visceral as ever.
With the B-sides out of the way (hey, even American indie rock legends need a warm-up), the opening rumble of Kim Deal's bass kicked into Debaser and the band took off on a noisy, beautifully chaotic and eerie pop trip into the world of Doolittle.
The dynamic between the songs was the remarkable thing, from the laid-back assault of Wave of Mutilation, into the psychedelic shredding of I Bleed, the frolic and fun of Here Comes Your Man, or the dark demented groove of Monkey Gone To Heaven.
And the band really hit their rhythm only three quarters of the way through the album, on Hey.
Singer/guitarist Black Francis was a mix of jolly and dismissive, Deal was a maniacal smiler throughout, guitarist Joey Santiago looked scared - but you would too with the intricate and wild parts he has to play - and drummer David Lovering was a machine, but led a romantic boogie-woogie sing-a-long on the lovely La La Love You.
While the band's earlier albums, Come On Pilgrim and the classic Surfer Rosa intrigued people with their uniquely twisted pop and influenced everyone from Nirvana to U2, Doolittle was the Pixies defining album, the one that took their music to a wider audience.
In the end though, we got a good helping of more than just Doolittle, as they scorched through everything from the mad Nimrod's Son to the mosh-inciting U-Mass, Deal's Gigantic, and Where Is My Mind? to end.
The Pixies came, they played, they conquered - and about time too.
THE PIXIES
Where: Powerstation