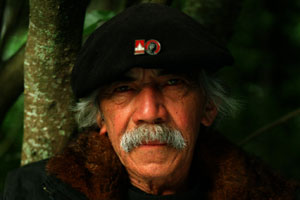 The art gallery which planned to auction 60 works by iconic Dunedin artist Ralph Hotere is "delighted" some of the works will go on sale after a dispute between the artist and vendor was settled last month.
The planned auction at Auckland's Art + Object gallery was cancelled just before it was to take place in September last year, after Hotere took a court case against vendor Annette Asher, formerly Ferguson.
The planned court action was understood to concern ownership, or the terms on which the works were "gifted to his friend and colleague", Ms Asher in 1968.
A settlement was brokered between the two parties in private in the High Court at Wellington last month, but court rules say the settlement terms cannot be disclosed.
Gallery director Ben Plumbly said he was "absolutely delighted" that 23 of the disputed works could now be auctioned on March 25.
"I think it's going to be incredibly significant," he told NZPA.
"The whole 60 works would have been pretty phenomenal, but the 23 works that we're offering still represents a pretty amazing collection, and some of the particular examples in there are absolutely top-shelf."
The works were produced from 1958 to 1968 - an "early, informative part of Ralph Hotere's career" - and included screenprints, drawings and paintings.
One series, entitled An Artist and a Poet, was the result of the "long and involved" relationship between Hotere and noted poet Hone Tuwhare.
"These are the first collaborative works between the two that I'm aware of," Mr Plumbly said.
A series of abstract works, entitled Silent Protest, would also be auctioned.
The works were "seemingly quite devoid of content and devoid of meaning", but research by art historian Kriselle Baker found the paintings were a protest against the Vietnam war, Mr Plumbly said.
"From an art historical angle, it's really nice to have those works kept together."
Some rare crucifixion drawings would also go on sale, although a series of screenprints, entitled This Land, would no longer be auctioned.
The dispute had been a difficult time for the gallery, Mr Plumbly said.
"Certainly it's been quite a journey, and there's been more downs than ups, but we're looking forward very much to there being a big up on March 25," he said.
"Although the whole collection's not intact as it was, I still don't think there's ever been this amount of work (on auction) by an artist of the calibre of Ralph Hotere."
Some potential bidders would be disappointed that certain works were no longer on sale, but the gallery expected strong interest in the auction.
"It'll be interesting just to gauge how people feel the second time around and what the level of interest is, but my gut feeling is that there still will be a phenomenal amount of interest in these works," Mr Plumbly said.
- NZPA