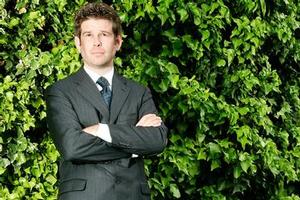 We all know about the brouhaha over John Campbell's medal interview and Paul Holmes' unsympathetic column about it in the Herald on Sunday, but as Campbell tells it, the bad blood goes a long way back. Holmesy says: "That's news to me!"
On the Rock's Morning Rumble show on Wednesday morning, Campbell was interviewed by jocks Bryce Casey and Roger Farrelly about his years in the media. But the soft-slanted exchange took a strange twist of events when the subject turned to Campbell's competition.
Casey: "So, it's you and Sainsbury at 7pm, have you ever thought of trying to grow a moustache?"
Campbell: "Um, no. I really like Mark Sainsbury though, he's a bloody lovely man. It's a strange thing being in competition with him as I'm supposed to hate his guts, but he's a delightful guy".
Farrelly: "What about Paul Holmes?"
Campbell: "I haven't had a great relationship with Paul over the years. And Paul hasn't been terribly generous about me. And as a young person coming through, I think you can be more generous about youngsters coming through, but that's fine."
Casey: "I hear his daughter's doing well" [laughing loudly].
Campbell: "She's doing well" [laughing loudly].
But Holmes took exception to Campbell's criticism.
"On the contrary, I think I have been generous and genuinely so in my helping of, and advice to, younger colleagues and I don't have it in my nature to be mean to colleagues... in fact, one of my weaknesses is I'm overly generous.
"John knows after the David Bain programme I congratulated him. He texted me back: 'Thank you, that means a lot'. Why would I have his phone number if we weren't on good terms?!"
So, we put it to Campbell: in what way has Holmes been ungenerous?
Unfortunately he wasn't prepared to explain. Pity. But then Campbell has never been terribly generous to this gossip columnist.
"Oh Rachel, I don't want to go there," Campbell sing-songed. "I don't want a slagging match. What I said I stand by and I haven't got anything to add". Period.
He means he doesn't feel the need to explain himself.
For a man set on haranguing others for their behaviour - "I've been following Brian Tamaki around town today," he said when he returned my call - he was being terribly evasive.
Shame really, He didn't even want to joke about any alleged animosity between the broadcasters. Campbell, it seemed, wasn't finding the idea of a rival spat so marvellous now.
Ali Mau new face of Fair Go, but what about Kev?
TVNZ's sexiest presenter is expected to front the network's dowdiest show. Ali Mau is set to become the new face of consumer affairs programme Fair Go. Spy understands Mau received her contract on Friday and has not yet signed. She is expected to headline the popular show alongside Gordon Harcourt, while Kevin Milne is being transitioned to a lesser role on the show.
Milne, 60, announced last year he had a benign brain tumour that may need to require surgery. He had been at the helm for 25 years. With TV One losing viewers to its sister channel TV2, Mau's sex appeal and star power is expected to pull the ratings up of the long-standing programme. The new-look Fair Go will kick off in June at the end of the MasterChef NZ series.