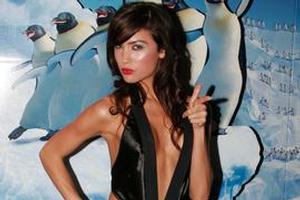 A Kiwi model who starred with Pamela Anderson in a controversial Australian TV ad has hit back at critics.
Aucklander Nicola Simpson appears with the Baywatch babe in a 30-second commercial for Aussie web company Crazy Domains.
The ad starts with 22-year-old Simpson pouring coffee for businessmen in a boardroom while Anderson chairs a meeting.
As Simpson offers cream to the coffee drinkers, the ad cuts to a fantasy sequence of the pair, clad in bikinis and rubbing against each other as they are sprayed with a white liquid.
The ad was pulled after the Australian Advertising Standards Bureau received more than 40 complaints and ruled it "crossed the line".
Complainants said the ad "sends a terrible message to young women", is "misogynist", "overtly sexist and exploitative" and "belittles women in the workplace".
But Simpson, a former Rangitoto College student from Mairangi Bay, said the ad was a hoot to film and complainants were "making a drama out of nothing".
"I don't think it should have been pulled," says Simpson, who is living in Los Angeles, where the ad was filmed.
"It was very harmless. Even my dad thought it was funny."
Crazy Domains managing director Gavin Collins has asked for a review of the ruling, telling the Sun Herald newspaper it made no sense and was "completely un-Australian".
He said it was meant to be "tongue-in-cheek" and there were more sexually explicit images on a daytime music video show.
Meanwhile Simpson, who is represented in New Zealand by Red 11 and has modelled around the world, had praise for Anderson: "I thought she'd be a bit snooty but she was the friendliest girl."
But Simpson revealed her co-star threatened to sue over the "cream" substance poured on them during the ad.
"They mixed flour with water, which made glue, so when it dried it formed dreadlocks in her hair," said Simpson.
"She had these long extensions, so she was a bit of a drama queen about that.
"We were in the shower for about two hours scrubbing our heads with olive oil and trying to brush it out."