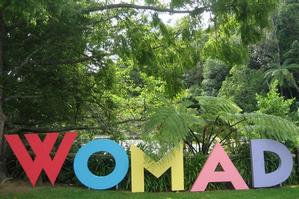 Francis Falceto still remembers the night in Paris he heard a record by Ethiopian singer Mahmoud Ahmed.
It was April 1984, and he was at a party with some friends and Ahmed's unique soothing wail caught his attention. He took the record, made some cassette copies of it, and sent them to all his friends.
He's been hooked on Ahmed - who performs at Womad with the Ethiopiques, a band assembled by Falceto - and Ethiopian music ever since.
"The brass sections are amazing, the melodies are amazing, and the voices," he gushes down the phone from Paris where he runs Buda Musique, a world music record label which is best known for its Ethiopiques series.
"Also at that time, I was familiar with different African music, but this was so different and far from the cliches we had about African music in general. So it was intriguing," he says.
So, a year after first hearing Ahmed, Falceto went to Ethiopia - still under the control of a brutal regime following a 1974 revolution led by Mengistu Haile Mariam - to find the singer and bring him back to France for some shows.
"Which I tried to do but with absolute ignorance about the country and the culture that he was from. I found myself in the middle of a military regime. It was a very strange trip. Of course I failed."
Fast forward to the mid-1990s, after the demise of Mengistu, and Falceto had the idea for the Ethiopiques series which gathers together releases by popular Ethiopian and Eritrean musicians from the early 1960s to 1974.
The first Ethiopiques volume - now up to its 25th release - came out in 1997.
This led to a career resurgence for Ahmed and other renowned Ethiopian artists such as Mulatu Astatqe, Alemayehu Eshete and Getatchew Mekurya, whom Falceto encouraged back on to the stage to perform with the 10-piece Ethiopiques band.
What: Womad
Where & when: Bowl Of Brooklands, New Plymouth, March 12-14
Line-up: Mahmoud Ahmed, with the Ethiopiques (Ethiopia); Hypnotic Brass Ensemble (US); Calexico (US); Eddi Reader (Scotland); Skatalites (Jamaica); Ojos De Brujo (Spain); Eliades Ochoa (Cuba), and locals including Iva Lankum, Anna Coddington, LA Mitchell, and Ladi6, and many more.
Highlights:

Friday
Hypnotic Brass Ensemble (6pm), Dub Colossus (8pm), Skatalites (10pm) all on the Bowl Stage.
Saturday
Calexico (4pm, Bowl Stage), Eliades Ochoa (8pm, Bowl Stage), Ojos De Brujo (9pm, Brooklands Stage), Ethiopiques (10pm, Bowl Stage);
Sunday
All Star Gala (10.30pm, Bowl Stage)
Tickets: Three-day $167-$220; one-day passes Friday $81, Saturday $126, Sunday $99; On-site accommodation, camping $52 per person for three nights (under 12 years get in free with adult); marae $73 per person for three nights (under 12 years get in free with adult)
More info: womad.co.nz.