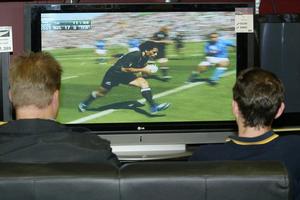 Television New Zealand is planning a new channel of repeats to be shown exclusively on pay television. Production industry sources said the new channel would be part of the basic Sky package.
TVNZ Heartland, to be unveiled soon, will join TVNZ 6 and TVNZ 7, which started on Sky last year. But it will not be on Freeview.
It is expected to include repeats of programmes for which TVNZ holds intellectual property rights, including dramas, comedies and reality shows.
TVNZ did not return calls and Sky chief executive John Fellet could not be reached for comment.
But a production industry source compared the content with Sky-owned channels Vibe or The Box which are part of the basic Sky package.
Sky, which introduces new channels each year to encourage subscriptions, has approved a new travel channel.
Freeview general manager Sam Irvine said a MediaWorks digital channel would start in June but there was no new channel coming from TVNZ.
An exclusive deal with Sky would be ironic. TVNZ and TV3 launched trenchant attacks on Sky Television and trumpeted the arrival of Freeview.
TVNZ has been negotiating the future of TVNZ 6 and TVNZ 7 with the Government. It has been supplying them with $79 million of taxpayer funding over five years on shows such as The Gravy, Media 7 and The Ad Show.
That deal, which is based on an agreement that TVNZ does not run advertising, is due to run out in 2011.
It is not clear whether the no-ads rule will apply to the new channel.
TVNZ is expecting a decision from the Government on future funding in the next three months.
Meanwhile, the state broadcaster is planning another round of staff and programming cuts to save $40 million and counter the loss of advertising.
AU REVOIR
TVNZ head of marketing and new business Jason Paris has defected from his mentor Rick Ellis to run television operations for MediaWorks. It is understood there was a suggestion Paris would be offered the role of deputy chief executive below Ellis, but that was not enough to keep him on board.
Amiable and polite, Paris has been right-hand man to chief executive Ellis and his departure will leave a big gap at the broadcaster. He left last Friday, taking with him an intimate understanding of TVNZ's strategy.
Paris was a key part of the Ellis strategy which focused on digital distribution and development of new digital platforms. Some outside the company saw that as a negative. "If you say to TVNZ you are worried about programming you are told that you were old-fashioned and out of touch," said one well-placed source in the production sector.
But others say Paris was there to implement Ellis' strategy and that has been done quickly and efficiently.
It is just not clear how much new media like TVNZ.co.nz are being subsidised from cuts to core production.
In his new role at MediaWorks, Paris has been charged with the revival of its digital strategy. In that task he will face a major hurdle.
MediaWorks lacks the intellectual property rights that have enabled the growth of TVNZ ondemand and TVNZ.co.nz.
WORLD CUP RUCK
Advertisers are wary about free-to-air TV channels getting together to talk with Rugby World Cup authorities about ad packages.
No doubt they'll be concerned that consultation does not amount to collusion.
Maori TV, TVNZ and TV3 won free-to-air rights to 16 games.
With wall-to-wall coverage and brand-blurring, plans to share commentators for coverage of the biggest games is a messy business.
But with broadcasters working together on a big chunk of prime time, the Association of New Zealand Advertisers is looking for an explanation.
Television Broadcasters Council chief executive Rick Friesen played down the combined approach and market competition issues.
He said the broadcasters were contractually obliged to work with organisers. They had to ensure packages fitted with the tournament's key advertisers - Emirates, Mastercard and Heineken. So broadcasters are limited in the advertising they can take from the sponsors' rivals in airlines, credit cards and beer.
Friesen said broadcasters would be selling time on their channels separately.
The Association of New Zealand Advertisers has asked for an explanation about the joint approach.
Friesen said there was plenty of time as broadcasters were not allowed to sell advertising for cup coverage for another six months.
But the role of Maori TV - and news the consortium plans to share commentators - has added to the complexity of the deal.
Maori TV has 16 free-to-air games and exclusive rights to eight and will show the six biggest games at the same time as TV One and TV3.
Many believe Maori TV will create an attractive package for viewers. But it is a non-commercial broadcaster and has limited background in the advertising sector and marketing infrastructure.
QUINN'S POST
Veteran rugby commentator Keith Quinn is hoping he will get some work from the cup but says sharing commentators might be difficult. Quinn's forte is with stats - so he should turn up somewhere.
He said space and resources were always a problem with a huge influx of foreign television crews and the combined role of three broadcasters would complicate matters. But commentators did not have to be in a box.
He had covered one match in Wales for the 1999 cup from central London, reporting from the TV screen. But he said something was lost from being outside the atmosphere of the stadium. Sky customers will be all right - as host broadcaster it will get pride of place.
But it would be a bit shocking if New Zealand free-to-air TV did not get a secure spot in the commentary box.
BUSH JUSTICE
Veteran sports photographer Peter Bush confirmed he was seeking press accreditation for the cup next year. Given his long history with the game, he is hopeful he will be given the nod. But realistically, coverage was built around television and other media have had a difficult time.
DEATH WARMED UP
Public radio folk can be pleased by the high-profile "Save RNZ" campaign that led to protest marches in Wellington and Auckland.
The campaign by Auckland University media studies tutor Jake Quinn revealed a groundswell of support from people who almost universally praised the broadcaster to the nines. I like big chunks of National Radio too, but ...
* Have any of the passionate advocates for National Radio listened to Chris Laidlaw on a Sunday morning, an important timeslot for public radio? It should be called the Death Warmed Up show.
* Is Radio New Zealand offering such good public radio that it could be harmed by considering a few new ideas?
* Do the broadcasters at Radio New Zealand think that it has been well managed?
* Why do most campaigners ignore the underfunding of RNZ under Labour?
* How come Radio New Zealand is based in Wellington but has no relationship or rapport with successive Governments?
* Some on the right want to tear Radio New Zealand down. What happened to the middle ground in the debate about the future of RNZ?