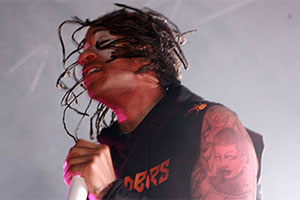 Their hits may hark back to the 90s but The Prodigy continues to leap-frog the "dated" box and to attract fresh-faced ragers.
Turning Henderson's Trusts Stadium into a steam cooker last night, blasting ears and turning eyes epileptic, the British electronic rock-ravers made sure not a brow in the house was dry.
Their blinking, pulsing light show created a silhouetted stop-motion effect as the band threw themselves about the stage and into one another as if they were trying to rid their bodies of immense boyish energy.
Between expletives lead singer Keith Flint demanded the crowd move - and he barely gave them a breather over a full 90 minutes. T-Shirts drowned in sweat were swung above heads like propellers, probably because there was too much sweat to sustain a crowd surf.
At several points Flint cried "New Zealand's on fire", and it really felt as if it was.
The band ran tracks from their most recent album, Invaders Must Die, into a selection of the biggest boomers from the previous four, which date back to 1992.
1996 hit Breathe, was the first big party number and kept the crowd roaring through to last year's hit Omen. Wild clashes of industrial drums led into old hit Poison, before clanging into recent boomer Thunder.
Most people, whether they owned every one of The Prodigy's albums or not, were really hanging out for '96 mega bass hit Firestarter. Pairing that with Voodoo People proved the Brits did not have to reinvent themselves to attract new fans - even recent recruits knew every word, riff and roar.

Taunting the jostling crowd with a long, trembling prelude to Smack My Bitch Up, the band held their energy through to the second encore with the old reggae track Out of Space.
It felt like a short set, but with most of the tracks clocking in at more than six minutes, a little Prodigy goes a long way.