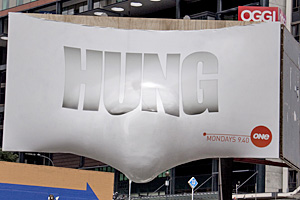 If you've recently copped a look at Colenso's provocative billboard on Auckland's Victoria St in central Auckland, you'll know it's a cheeky attempt to advertise TVNZ's controversial television show Hung and attract market penetration. In light of TVNZ's falling profit figures released yesterday, it helps that it has drawn the attention of Hollywood gossip blogger Perez Hilton.
Hilton slapped up a photo of the billboard, which is shaped like a pair of men's underpants, and blogged: "Now that's what we call advertising.. check out the billboard for HBO's Hung down in New Zealand... we like the way those kinky Kiwis think!"
Meanwhile, multi-millionaire television producer Mark Burnett, who created hit reality TV shows Survivor and The Apprentice is so thrilled with the ratings for the New Zealand version of The Apprentice, he sent a bottle of Dom Perignon champagne to Glenn Sims who produced the show here, while Terry Serepisos received a bottle of Cristal and a handwritten note of congratulations.
Burnett, who last year received his own star on Hollywood Boulevard and whose fortune is estimated at half a billion dollars, emailed TVNZ this week to congratulate the network.
"With a show that is known for building an audience," Burnett said, "you have certainly made your mark with the success of the premiere. We're really happy to be in partnership with you and Great Southern and, ratings aside, are really proud of the quality of the show."
Yesterday TVNZ released figures showing profit at the network had halved due to tighter budgets and falling advertising revenue. Television shows will be on the chopping block. But new shows MasterChef NZ and The Apprentice NZ look to be safe, thanks to good ratings.
TVNZ spokeswoman Megan Richards told the NZ Herald: "The first show of The Apprentice out-rated the US version with Donald Trump and pulled a strong audience among 18 to 39-year-olds".
Marcus Lush, 44, took to the airwaves yesterday to talk about the show he describes as "absolutely riveting" and he interviewed Lee Davies, the second person evicted from The Apprentice.
"It was like watching a road accident, it was like you couldn't cope.... It looked like you were in the middle of a psychiatric breakdown... It looked like the first 15 picking on the guy from the drama club, it just didn't look fair," Lush said provokingly.
Davies, who describes himself as "a wolf in wolf's clothing", wasn't taking the bait. The internet entrepreneur said he got on well with the other contestants and he just set out to entertain.
"Were you surprised by how hopeless the women are?," Lush incited.
"They won the show, didn't they?" Davies deadpanned.
Lush 0; Davies 1.
The Apprentice evictee said while he was surprised with how he was portrayed on television, he always set out to entertain. That he did, and like Lushie, I'm absolutely riveted.