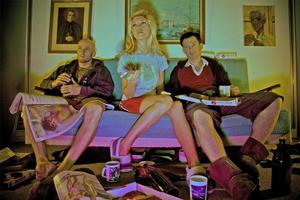 Minuit's music is a far cry from the American piano pop of The Fray. But the Wellington-based electro-pop band also have a song on Grey's Anatomy, the show that made The Fray famous with their song How to Save a Life.
Snow Patrol also became a household name in America after their song Chasing Cars featured on the show in 2006.
Minuit's Paul Dodge says the potential exposure is exciting - the Grey's Anatomy website lists the songs that appear in each week's episode, and when this particular episode aired in the States, people were discussing the Minuit song on Twitter.
Dodge says the phone call from the States came as a huge surprise. The band's New Zealand publishers have a sister arm in America that pitches songs to television shows and films.
"But I mean there are thousands and thousands of songs floating around the States trying to get on to movies and TV, and for some reason someone just picked this one up and sent it to Grey's Anatomy and it was just bang on."
I'm Still Dancing, appears in the episode screening here on April 27, alongside a song by Alicia Keys.
Dodge says he was surprised that the show decided to use such an obscure Minuit track.
"It's like third from the end, and I thought, man, someone's listened to the album all the way through to the end to be able to find it. It's cool that even someone over in the States knows the music well enough to be able to pitch it."
He has already seen the episode, which aired in the States a few weeks ago, but as he doesn't watch the show was not sure what was going on beyond some doctor moving between the operating theatre and the bedroom.
"I guess that's what doctors get up to in hospitals, I'm not sure."
The band will be paid in American dollars and get royalties each time the episode airs around the world, so Dodge says he can see how selling songs to film and television could be a seriously lucrative business.
"I'm finding out every day new bonuses from being on Grey's Anatomy," he says.
But as for whether anything else comes of it, "who knows," he says. Meanwhile Minuit are concentrating on their local summer tour. Tauranga's up today, followed by Napier.