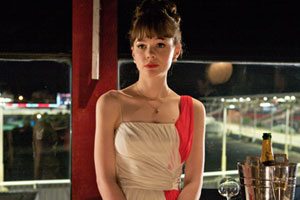 Home-grown movies swept the board at last year's UK film awards, and triumphant headlines echoed screenwriter Colin Welland's cry from 1981: "The British are coming."
What a difference a year makes. Critics and bookies warned Britain yesterday to brace for an American invasion.
And the first wave is expected to dominate today's British Academy of Film and Television Awards - the Baftas.
American Kathryn Bigelow is the bookmakers' favourite for best director, for her Iraq war drama The Hurt Locker; her ex-husband, Avatar director James Cameron, is second in line.
Also in the running are the American Quentin Tarantino, South African-born Neill Blomkamp and Dane Lone Scherfig.
The change could not be more profound after last year's triumph, when British director Danny Boyle took best director and six other Baftas, including the best film award for Slumdog Millionaire.
"It's shocking that a British name isn't among the best director contenders," said Sam Ashurst of Total Film magazine. "I expect An Education, A Single Man and Nowhere Boy to do well, but the big prizes will go to American films."
British film-makers are pinning their hopes on the best actor and actress categories. Andy Serkis is a prospect for his turn as musician Ian Dury in Sex & Drugs & Rock & Roll, as is Colin Firth - who picked best British actor at last week's London Film Critics Circle awards for his role in Tom Ford's A Single Man.
Londoner Carey Mulligan is tipped to hold off Meryl Streep and Audrey Tautou, and newcomers Saoirse Ronan and Gabourey Sidibe, as best actress for her role as Jenny in An Education.
A spokesman for bookmaker William Hill said partisan betting had shortened the odds on British contenders. But industry insiders say this cannot disguise a dearth of top-notch home-grown films.
"I don't think that it has been a banner year for British film," said Helen O'Hara, of Empire magazine. "We haven't had an English Patient or Atonement. An Education is the closest we've got."
Some say British movies have been deliberately excluded from the forthcoming Oscars as "compensation" for Hollywood after the runaway success of multiple winner Slumdog Millionaire. British films are almost completely absent from this year's Oscar categories, only An Education picking up a nomination for best picture.
British actors have salvaged some dignity, Colin Firth picking up his first Oscar nomination, and Helen Mirren nominated for her role as Sofya Tolstoy in The Last Station.
"It seems that this year's Oscar nominations are overcompensating for last year's British invasion. Aside from a handful of token nods, the big stories at this year's ceremony are all American," said Ashurst.
British Film Institute director Amanda Nevill agreed: "For a British film to do well at the Oscars [this year], it has to do one and a half times as well as an American one."
- INDEPENDENT