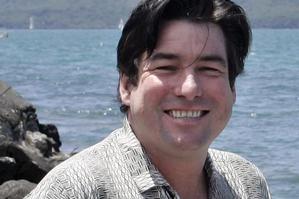 Masterchef celebrity judge Ross Burden agreed to leave work after making suggestive remarks to young male kitchen staff at an upmarket Auckland restaurant this week.
Burden, 42, who has been working part-time as a waiter at Sails Restaurant since last year, allegedly upset several chefs with a remark as they were bending over in the restaurant kitchen.
The Herald on Sunday was contacted about the incident. A source alleged Burden was drunk and made inappropriate sexual remarks about one of the young male chefs.
Burden said there was a "tall poppy" aspect to the complaint as a result of his appearance on MasterChef NZ over the past three weeks.
"I think there is an enormous amount of green-eyed monster."
Burden suspected the fact he was gay was also behind the complaint. There was always "a lot of verbal bantering" in the kitchen, he said.
"I think I perhaps just offended him [one of the chefs] a little bit more." He had tried to apologise to the chef "but he wouldn't catch my eye".
Burden said after the incident he and the restaurant management agreed it was appropriate that he should go home early. He returned to work the following day.
The New Zealand-born chef shot to stardom in Britain after reaching the finals in BBC's MasterChef in 1993. He became a household name as a host on Ready Steady Cook.
Asked what he said had caused offence Burden said, "Oh, it was just something - three guys bending over at the same time. And being young guys they all had their pants around their arses and I just made a comment, 'three cracks in a row', or something. So perhaps they took offence..."
He said if the remark was construed as inappropriate "then it was inappropriate". But Burden said he "wasn't pinching bums in Fiji or eating babies... I just got a bit boisterous, that's all."
He "might have had a beer or two before work", but denied he was drunk. "I wasn't steaming it, certainly not." He had not told producers of MasterChef NZ of the incident.
Burden said he was working at Sails to research what food the Kiwi public liked and didn't like after living overseas for two decades.
Last night was his last shift at Sails before preparing to study law at the University of Auckland this year.
Sails' managing director Bart Littlejohn said he had not received an official complaint and while he had talked to Burden about the incident, he had taken no disciplinary action.
"Ross is the type of guy who is fairly flamboyant, larger than life. That's why we love him and he can be perhaps a little too vocal.
"I think we should be able to make the odd comment that doesn't fit in the rules."