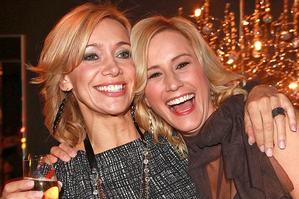 The controversy around Alison Mau's sexuality in recent weeks has been good news for TVNZ where it counts - the ratings.
Mau is standing in for Paul Henry on Breakfast and, just like Henry, has wooed viewers with a combination of personal controversy and provocative comments.
She faces a formal complaint after a tirade attacking Woman's Day for photos of her that she wrongly claimed were not taken that week.
Earlier this month, the Herald on Sunday revealed that Mau was in a relationship with dance teacher Karleen Edmonds, and ran a personal statement from Mau.
Before that, in a week when Pippa Wetzell had been fronting Breakfast with fresh-faced reporter Jack Tame, the show was watched by 113,290 people, according to TVNZ figures.
The following Monday - Mau's first morning on the couch with Pippa and the day after this newspaper reported her new relationship - that figure had increased to 135,700, a jump of more than 22,000.
The high ratings continued as the week progressed and the media frenzy around Mau intensified.
This week, the numbers were slightly lower but remained impressive - no doubt helped by Mau's attack on Woman's Day magazine and a paparazzi photographer whom she accused of tailing her and her family.
Paul Norris from the New Zealand Broadcasting School said the increase in viewers "may support the rather doubtful theory that all publicity is good publicity".
"Perhaps people are sampling Breakfast as a result of the controversy around Alison and are finding they're liking the combination of Alison and Pippa," said Norris.
Norris suspected the rise may largely be made up of women attracted to the all-female presenting duo.