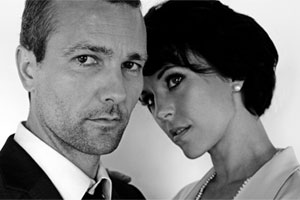 Leaving for work, a buttoned-up English banker asks his housewife: "Is your lover coming today?" Harold Pinter teasingly sets the scene for his caustic 1963 send-up of middle-class sexual mores with this matter-of-fact question. The wife's polite answer is: "Yes".
While the couple on stage play polite, needling games with each other, The Lover plays sly perspective games with the audience. Who is hurt? Who is just pretending? Metaphorically speaking, who's on top?
Finishing in just under an hour, this production can leave you slightly bemused. Partially this is deliberate; many of Pinter's wily psychological traps only come to light once you've mulled it over. And partially it is because the tension - of the sexual variety at least - is downplayed in this production.
The physical interaction between supposedly passionate lovers is rather safe - hands mostly on thighs and hips. But there is a lovely, languid scene where Michelle Langstone, alone on stage as the housewife, sensuously puts her stockings on.
It contrasts nicely to an earlier moment, when the husband has comically stripped off - to his socks and underwear.
Langstone - in her second Pinter play under the direction of Caroline Bell-Booth - uses her face, voice and body well. She starts off so tight, light and bright that her smile is stretched to grimace, before her character tries to smoulder and then turns haggard and hard. Although his urgency and presence doesn't match hers, Craig Hall is suitably prim-and-proper as the banker.
The mood-matching lighting and the between-scene music smother the subtlety of the script - "Stormy Weather" plays after an onstage argument. But Katie Lockhart's set chocked full with chunky furniture as light and bright as the housewife's expression provides suitable obstacles for the characters' stilted interaction. This production is not the definitive Lover but it is respectable - and at just $20 a ticket, that's more than enough.