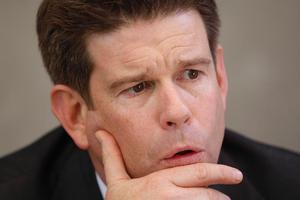 Brow furrowed, microphone in hand, John Campbell left the studio and the swivel chair yesterday and set off for the 'Tron to uncover the truth behind the Unigirl auction. He wanted to know if it's legit or a tricky marketing stunt.
After news broke last week about a 19-year-old girl in Northland (she calls herself "Unigirl") who allegedly sold her virginity for $45,000 on little-heard-of online auction site ineed.co.nz to pay for tuition fees, many in the media were sceptical.
What better way to gain profile for a fledgling auction site up against Goliath TradeMe than the auction of a virgin?
Campbell smelled a rat. The Wise Man, following a hunch not a star, trekked to Hamilton in search of the truth about the virgin. The Campbell Live cameras followed.
Bearing no gifts but a snarky suspicion, Campbo found the house and tapped on the door.
The cameras rolled. No one home at the inn, he told us.
Perched outside the brick-and-tile abode, Campbell phoned the man behind the auction site for answers. This could have been done from the comfort of his window office at the network's Flower St address but that wouldn't have said higher-ratings-by-Easter. The 'Tron beckoned.
Ross McKenzie from iNeed Ltd assured Campbell (via speakerphone) that the auction item is completely legitimate.
Campbell screwed up his face suspiciously to the cameras, echoing a sentiment shared by many viewers. He looked unconvinced. The strawberry-blonde with the cheesy catchphrase "that's marvellous" displayed a cool contrarian side and we liked.
Last week Campbell told the Herald on Sunday his show is "middle-brow fare, [but] it's not cynically populist."
Unigirl has claimed that more than 30,000 people have viewed her advertisement and more than 1,200 made bids. With those sorts of numbers and with the battle for ratings at seven o'clock heating up, Campbell is right to be chasing and questioning the virgin story.
"This is mass audience stuff, and we have to get people to watch us," Campbell told the newspaper.
*****
Forget the charity single. Why can't celebrities just hand over cash?
From George Clooney's Telethon, to Lionel Richie's revamped We Are the World single and Simon Cowell's British remake of the REM hit Everybody Hurts, celebrities are desperate to be included in feel-good charity appeals to enhance their public image as the hype of award season continues.
But not AC/DC frontman Brian Johnson.
As the band tours New Zealand, the husky-voiced 62-year-old told Sydney's Daily Telegraph newspaper this week that giving to charity shouldn't be about public accolades.
"I do it myself, I don't tell everybody I'm doing it". "I don't tell everybody they should give money - they can't afford it," Johnson said.
This week celebrity musicians gathered in recording studios in Los Angeles and London to take part in charity singles to raise money for Haiti following the devastating earthquake.
Clooney's clan gathered last month on both coasts of America to take part in the Hope For Haiti Telethon that raised over US$20 million with celebrities performing and manning the phones, taking calls from the public who made generous donations.
Thanks to wily publicists we've learnt a handful of celebrities made donations themselves.
But, as Joe Public gave from their meagre salaries, why didn't more A-list celebs - who regularly make US$10-15 million per film - donate some cash too?
"Exactly the same amount could have been forthcoming," wrote Janet Street Porter in Britain's Daily Mail, "if the celebs like Leo DiCaprio and Jack Nicholson (who were on camera answering phones and taking donations from members of the public on ordinary salaries, not film star fees) had sold a couple of their planes, their spare beach house or their fleet of cars."
We have learnt DiCaprio donated US$1 million to the Haitian relief through his eponymous charitable fund. George Clooney parted with US$1 million and announced it live on the Telethon he hosted. Cynics noted this would have only enhanced his image with the members of the Academy of Motion Picture Art and Science whom Clooney hoped would nominate him for an Oscar. They did.
But the question is why should we be cajoled to split with our hard-earned cash by multi-millionaire celebrities?
"When I was a working man I didn't want to go to a concert for some bastard to talk down to me that I should be thinking of some kid in Africa," AC/DC's frontman said.
"I'm sorry mate, do it yourself, spend some of your own money and get it done. It just makes me angry. I become all tyrannical."
Johnson told the Telegraph that the heavy metal band turned down the chance to play at Bob Geldof's Live Aid charity concert in 1985.
"Bob Geldof is a canny lad. He did what he thought was right at the time but it didn't work," he said. "The money didn't go to poor people. It makes me mad when people try to use politics or charity for publicity. "Do a charity gig, fair enough, but not on worldwide television."