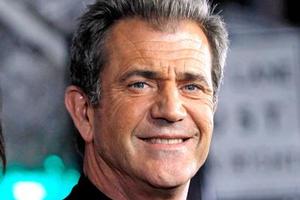 He's done the crime, and he's done the time. So says Hollywood bad boy Mel Gibson who's had his fill of people dredging up his controversial past.
Gibson's gospel: Get over it. He's moved on, "asshole".
Gibson, 54, was on US TV this week plugging comeback flick and box office bomb Edge of Darkness and became irritated when a reporter pressed him about, quelle surprise, that nasty DUI (driving under the influence) arrest and infamous anti-Semitic rant in 2006.
The Lethal Weapon star was being interviewed by Dean Richards, a veteran entertainment reporter for Chicago's WGN-TV, via satellite and things turned sour when he was probed about his headline-hogging past.
"Do you think the public will perceive you any differently after all that's been in the news about you?" Richards asked.
Insert awkward silence.
"What are you referring to specifically?" Gibson enquired.
"Referring to the drinking problems, referring to the, what's been called, the anti-Semitic rant," Richards said.
"That's almost four years ago, dude," Gibson snipped, visibly agitated, after an uncomfortable silence. "I've moved on, I guess you haven't."
"I've done all the necessary mea culpas. Let's move on," he added.
'Bye-bye...'
Richards obliged and proceeded to sheepishly wrap up the interview. But before the plug was pulled on the satellite feed, Gibson slugged back his coffee, gave a pally thumbs up and imparted with his own brand of sign-off.
"Bye-bye," he responded, quickly followed by "asshole."
Watch a video of the a-bomb interview below:
Richards maintains he was unfazed by the exchange and says he told Gibson's publicist he'd only talk to the actor if he could ask questions about his past.
"That's the 2,000-pound elephant in the room," said Richards, adding "I don't do puff pieces."
Word is the publicist reluctantly agreed, but it's anyone's guess whether Gibson was in on the deal.
Edge of Darkness is Gibson's first film in front of the cameras for seven years. He's been spending his time directing and procreating with his Russian squeeze Oksana Grigorieva.
Following his 2006 arrest, Gibson pleaded no contest to a drink-driving charge and was given three years' probation.
The now legendary incident had the star allegedly making inflammatory remarks about Jews and women, reportedly spewing "f***ing Jews" at his arresting officer (who was Jewish) and calling her "sugar t**s."
Gibson later made several apologies for his behaviour, admitted he was an alcoholic, and pleaded with the Jewish community to "help me on my journey through recovery".
But it was a rather short journey. Barely six months after the outburst, Gibson snapped back at his critics and told them to "get the hell over it" and indignantly claimed his treatment following the arrest was "out of proportion".
"How many people do you know get a DUI and are kicked around for six months?" Gibson said.
"It's out of proportion. I'm not saying I wasn't at fault.
"I've apologised, done the right thing, now get the hell over it... I'm a work in progress."
'A dog in this fight...'
Gibson's grump also manifested itself a couple of weeks ago. He got snippy with another journo who followed a similar line of questioning to Richards'.
An agitated Gibson barked at the reporter, who is Jewish, when the conversation led on to the star's reported slur-filled anti-Semitic tirade. "I gather you have a dog in this fight," Gibson snipped.
Watch the uncomfortable exchange below:
The denial
Gibson has now denied calling the reporter an "asshole" during the interview. His lame explanation is that he was talking to his publicist, and not Richards, when he made the remark.
He says his publicist was pulling faces at him off-camera, and didn't realise he was still on air when he let rip.
Yeah right.
Verdict
We're not convinced Gibson's agitation was entirely justified. Given his shady history, and career hiatus, he should realise people will want to ask him about the icky personal stuff - not just the cheerleading, vanilla, pr-friendly questions about his comeback.
So who's the real "asshole" here? Gibson or the reporter?
And now for this...
Seriously, the genius behind these literal music videos should be dipped in gold.
We've had A-ha, Bonnie Tyler, and now Michael Jackson gets the 'literal' treatment.
Fabulous. Chamon!
Blogger Bites Back
* Follow Blogger Bites Back on Twitter here