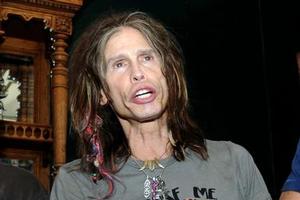 Estranged Aerosmith frontman Steven Tyler has reportedly threatened legal action if he's replaced as the legendary band's singer.
Tyler, currently receiving treatment in rehab for a well-documented painkiller addiction, has been seeking legal advice to stop his fellow band members from holding auditions to replace him.
Aerosmith guitarist Joe Perry recently revealed the band planned to hold auditions this month for a Tyler successor, despite the frontman's insistence that he still planned to work with the band, post-rehab.
Rumours surfaced last November that Tyler was set to walk and concentrate on a solo career. Speculation he later trashed by issuing a statement, saying: "I wish to set the record straight and say that I have read reports of a rumoured two-year hiatus and want to be clear that this is completely false and I will enthusiastically be writing, recording and performing with Aerosmith as soon as things are handled."
Adios Tyler
However, just to complicate things a smidge, Perry recently told news agency QMI that the band was to "start having some auditions, making some phone calls. Hopefully, we'll have found a new singer by the summer, and Aerosmith will be able to go back out on the road".
Despite the usurping, Perry said the move didn't necessarily mean Tyler was out of the equation.
"He [Tyler] has to have leg surgery and foot surgery and it's basically going to take him out of the picture for about a year, year and a half," he said.
"So, in the meantime, the rest of the band wants to play. And I want to play with the other guys in Aerosmith. So the four of us are just making our plans. We're gonna find somebody to get in there and fill that spot."
Among the singers reportedly lining up to de-throne Tyler (the man with the most fabulous lips in rock) are Lenny Kravitz (plausible) and 80s peroxide three-hit-wonder Billy Idol (not so fabulous. May he remain lost in showbiz).
Nice idea, shame about the minor complication: Tyler. He's having none of it.
Word is Tyler's legal muscle, Skip Miller, has fired off a snooty letter to the band's manager, Howard Kaufman, threatening a lawsuit if the boys go on tour without him.
The letter, first unearthed by Billboard, requests Aerosmith's management "immediately cease and desist from engaging in acts and conduct to the harm and detriment of your own client, Aerosmith, and our client who is one of its members."
There's also talk of a crisis meeting, scheduled for February 9, for the band of brothers to slug it out face-to-face and draw their respective lines in the sand.
The four-page letter then goes on to say "we reserve all of our legal rights and remedies in this matter, including, without limitation, pursuing legal action for damages and other appropriate relief."
But "Steven Tyler does not want lawsuits", Miller writes.
"We do not want to go in that direction. The direction we want is Aerosmith, with Steven Tyler, touring in Europe, touring Latin America, releasing a new album... This is the direction it's all intended to go. It's just amazing to me current management would be taking any other position."
Miller adds: "Can you imagine the manager of the Rolling Stones calling for the replacement of Mick Jagger? Steven is Aerosmith, along with the others. He's the guy the public knows. He's the singer."
Sounds like there's some seriously bad juju between the boys. But replacing Tyler is a preposterous idea. He IS Aerosmith. Hug it out and see sense, chaps.
Meanwhile...
Rocker Tyler's stint in rehab has proven to be a hit with the tabloids. The game du jour being to guess where he's hiding himself.
He's made few public appearances since he checked into rehab last year, but the ones he has made have been memorable.
Tyler was recently snapped in his signature shades and flashing a 'peace' sign to his fans at the Tilted Kilt pub in Palm Desert, Southern California, where he caused stir after singing the band's hit I Don't Want to Miss a Thing.
Days later he serenaded customers over the loudspeaker of a Home Depot in Rancho Mirage, California.
TMZ reports Tyler used the store's loudspeaker system, usually reserved for price checks and random exclamations, to belt out classic tracks Dude Looks Like a Lady and I Don't Want to Miss a Thing.
But it didn't end there. Tyler reportedly took a hit from a helium machine to 'Chipmunk' his voice while merrily signing autographs for the punters.
Speaking of Tyler's impromptu antics, his manager Eric Sherman said the singer is "a performer 24/7 – whether he's on stage, at the Home Depot or singing karaoke." Adding that he was actually in there to do some shopping.
He added: "We are all really proud of Steven's continuing successful therapy and look forward to the day he returns to the stage and recording studio with Aerosmith to make new music for the fans."
Bless him, Tyler's obviously having a whale of a time on his very own karaoke tour.
Anyway, as for pinning down his rehab location, we'd put money on the Betty Ford Clinic...
What do you think? Can there really be an Aerosmith without Tyler?
Blogger Bites Back