What: Echo & The Bunnymen.
Where: Laneway Festival, Auckland.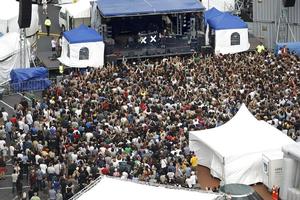 Even hip young high-concept music festivals need acts with a few miles on them to get punters in the gates.
In the case of yesterday's Laneway gathering the blasts from the past came down to a mix of reconstituted locals - the 3Ds and Chris Knox and his band The Nothing, all in gleefully celebratory raucous mood - and Echo and the Bunnymen, all the way from Liverpool and the early 1980s.
The band, who were once rivals to U2 as stadium contenders in that decade and a discernible influence on Coldplay in more recent years, had missed their Melbourne show on Saturday because frontman Ian McCulloch missed his flight from Britain. So we were possibly lucky to have them at all.
But if they were a drawcard, performance wise, the 2010 version of the band which was last year 29 years old didn't quite justify their top billing.
A hooded and sunglassed McCulloch spent much of his time in between songs in conversation with his stage sound guy.
And for for much of the early part of the set it had the feel of a veteran act just going through the motions, hoping the abundant dry ice would add to the excitement.
But powered by the grand guitar of Will Sergeant, they certainly got through some of the key points on their best-of list, finally finding some real momentum on the closing anthems Back of Love, Killing Moon and a pulsating version of Cutter.
However, it was tepid going until then, with occasional karaoke-hour diversions into songs by the Doors, Wilson Pickett and Lou Reed's Walk on the Wild Side, on which McCulloch substituted "Merseyside" for any homesick Liverpudlians present.
But for the rest of us who loved the band at the height of their powers all those years ago, it felt like a dull echo of a distant era.