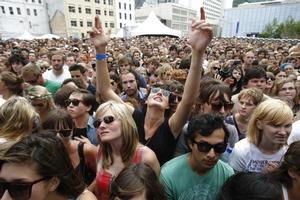 Raincoats and plastic ponchos were de rigueur early on at the first Laneway Festival at Britomart in central Auckland yesterday. But the rock 'n' roll gods were smiling. It fined up into a mostly overcast day, despite the odd rain bomb, which was just as well because the concrete square, with its apartment and office block surrounds, would have been sweltering if the sun had been out.
With a capacity of 5000, Laneway is a more intimate affair than larger festivals such as the Big Day Out, but beer queues were still long, with punters waiting an hour to get into the drinking area, and lining up for a further 20 minutes to get served.
Having two stages so close to each other was always going to be an issue at some stage and was not a problem until American lo-fi folky Daniel Johnston's stunning late afternoon set was rudely overpowered by local dance rockers Cut Off Your Hands.
But despite the queues and some sound wars, the event will give the central city more of a heart now that it's an annual event.
The festival, first held in Melbourne in 2004, aims to bring together "legendary bands" with today's best up-and-coming acts.
This year the legends included British post punk band Echo and the Bunnymen and New Zealand's own reunited noise makers the 3Ds, alongside Florence and the Machine, who closed the show around 10.30pm, and shy yet impressive British youngsters The xx.
Rowdy Aucklanders Street Chant kicked things off just after 12pm with a loud, drum bashing set. Numbers grew during Dear Times Waste and had reached the thousands by the time Auckland's The Naked And Famous took over.
After a slight struggle with the wind in her dress, and the sound, singer Alisa Xayalith and singer/guitarist Thom Powers got the crowd pulsing with the first dance of the day.
Next up was Family Cactus, an unlikely ensemble of eight musicians from Wellington who played a friendly country-rock set, making use of everything from accordions to synths; and fellow Wellingtonians The Phoenix Foundation, who worked the festival crowd with everything from between-song banter - "Hello sweeties, I like this new venue, it's kind of like the Kings Arms" - to a set of old and new songs.
The most anticipated act of the afternoon was 20-year-old Londoners The xx, and with their hushed and entrancing rock 'n' roll, they lived up to the hype in their own bashful way.