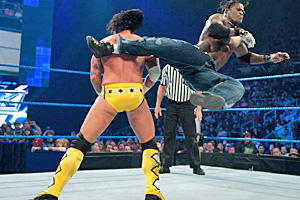 Performers and pundits alike call WrestleMania the "superbowl" of professional wrestling, but for many Kiwis it's another World Wrestling Entertainment event that invites the party-day atmosphere.
The Royal Rumble is an annual three-hour event in which the main attraction is a contest where 30 men brawl until one is left standing in the ring, and it has become something of an Auckland Anniversary day tradition.
For Kiwi fans, it's an excellent reason to get together for a midsummer barbie. For the competitors, it's as competitive and as catty as the final stages of American Idol - but rather than earning a record contract, the winner of the Royal Rumble goes directly into the main event at WrestleMania to challenge for one of WWE's two world titles.
One of the men hoping to draw a number for the canvas-shaker on February 1 is R-Truth, a 188cm, 102kg, all-round good guy from Charlotte, North Carolina.
"I'm hitting it hard, man. That (WrestleMania) is like the superbowl," he said. "I've got to bring my A-game."
A talented musician who performs his own entrance rap, R-Truth brushed off suggestions of a rivalry with ex-WWE champion John Cena, who released his first hip-hop album in 2005.
"I think we both do our shizzle," he said. The pair are apparently in talks about collaborating on a project of their own.
The work-life balance keeps R-Truth busy even when he's not on the road for most days of the year. "I'm still working, trying to be creative. I'm a parent, I gotta be a super dad."
R-Truth will join fellow WWE stars from the Smackdown and ECW brands on tour in New Zealand and Australia later in the year, with the Undertaker, Edge and Rey Mysterio among the stars scheduled to appear in Auckland on August 5.
The show was added to the Australian tour after high demand from local fans.
"It's about family," R-Truth said of the WWE live experience. "Ages eight to 80 spending quality time together."
"I heard there are some real rowdy fans in New Zealand. Come one, come all. You'll be entertained. It's the biggest, baddest show on earth!"
* WWE Royal Rumble airs on February 1 at 2pm on Sky Box Office. WWE Smackdown & ECW perform live at Vector Arena in Auckland on August 5. Tickets on sale at Ticketmaster from February 26.
- NZ HERALD ONLINE