Rating: * *
Verdict: Predictable, harmless holiday fun.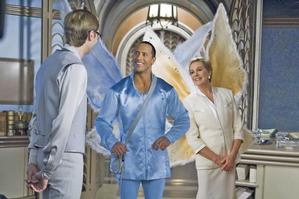 In his quest to become an all-round family-friendly star, former wrestler Dwayne "The Rock" Johnson resorts to wearing a tutu to get laughs in his latest outing, run-of-the-mill comedy Tooth Fairy.
Playing an ageing ice hockey player who never quite made it to the big time, Derek Thompson (Johnson) now sees it as his responsibility to destroy everyone else's dreams. That is, until he finds himself summoned to the "'Department of Dissemination of Disbelief"' in Fairyland, after he almost blows the whistle on the non-existence of tooth fairies to his girlfriend's daughter.
Arriving in Fairyland, Derek meets his case worker, a wingless fairy called Tracy (Stephen Merchant), and his new boss, the stern principal-like Head Fairy, Lily (Julie Andrews), who informs him he has been sentenced to two weeks working as a tooth fairy as punishment for being a dream killer.
The main gag here though remains, "'jock in a tutu", and Johnson is well-cast and likeable in the role, even if he is rather predictable and obvious when compared to the acting of his co-stars Ashley Judd, Billy Crystal and Merchant.
The storyline allows for plenty of mushy bonding to take place and Derek gets to espouse his newfound belief in following your dreams, whether it's encouraging his girlfriend's son to become a guitarist, or Tracy to become a tooth fairy, or just accepting and mentoring the new hotshot young hockey player on the team.
The best thing about this harmless, predictable fairytale moral is Stephen Merchant, Ricky Gervais' writing partner. He makes a film that will only appeal to kids a tolerable exercise for those parents calculating just how many more days it is until school starts.
Cast: Ashley Judd, Dwayne Johnson
Director: Michael Lembeck
Running Time: 101 mins
Rating: G