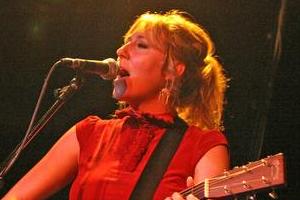 "Little sparrow" Edith Piaf's husky, and largely dolorous songs - performed in smoky bars between sips of absinthe - will always be treasured by the French for their cultural significance, defining a bygone, bohemian era.
Fifty years later, Piaf's fervent fan base was revived with the release of the 2007 film La Vie en Rose, in which Marion Cotillard played the fragile, dark-eyed lady with that big voice that reeks of cigarettes, coffee, red wine and everything else the rest of the world associates with being deeply French.
Canadian-American folk-rock singer-songwriter Martha Wainwright, a Francophile, has been obsessed with the chanteuse since she was a child.
Her third album In Sans Fusils, Ni Souliers, A Paris, is a live tribute to the French legend's lesser-known songs.
Wainwright's voice is smoother than Piaf's almost gamine bellow, and her accent more, well, Canadian-French than Piaf's pure Padam-speak.
But she sings with the same pained passion as Piaf. Wainwright, the daughter of folk/blues musician Loudon Wainwright III and folk singer-songwriter Kate McGarrigle, and sister of Rufus Wainwright, is known for heated performances, and her first single, Bloody Mother F****** A****** was inspired by her less-than-pleasant memories of her father.
Piaf was best enjoyed as a live act, and Wainwright has also recorded this album live - but it doesn't sound as though she is swirling paint-peelingly strong alcohol around in her glass throughout the performance.
Listeners will recognise the first four tracks on the album La Foule, Adieu Mon Coeur, Une Enfante and L'Accordeoniste as well as A Hamburg as being of the cheeky, yet mournful chanteuse - just with a clearer and less-haunting sound.
Accompanied by the piano accordion, familiar French folk piano chords and the odd trumpet, Wainwright transports her audience to Paris. Les Grognards evokes sounds of the hateful war that claimed Piaf's lover. Other tracks are as unfamiliar as the unpublished sketches of Da Vinci and 15 tracks does seem a bit long.
Don't go hunting for La Vie en Rose or Non, je ne regrette rien on this album, as Wainwright has steered clear of those anthems. It allows Wainwright to not succumb to a complete replica of a Piaf album, and to satisfy both her fans and the little sparrow's.