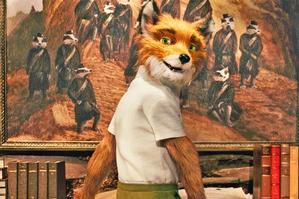 Renowned for offbeat indie comedies, including Rushmore and The Royal Tenenbaums, Wes Anderson doesn't seem like a natural choice to helm the children's film Fantastic Mr Fox.
But just as the equally eccentric Spike Jonze adapted Maurice Sendak's Where the Wild Things Are, the Houston-born director has brought his own idiosyncratic vision to Roald Dahl's much-loved 1970 novel.
"Both movies are made by people who don't come out of the world of doing family films but are more used to doing personal movies," says Anderson, who cites Fantastic Mr Fox as his favourite childhood book. "I loved the character of Mr Fox, this sort of heroic and slightly full-of-himself animal."
Fantastic Mr Fox represents a first venture into animation for Anderson. But rather than embracing the spectacular 3D technology of blockbusters such as A Christmas Carol and Up, he chose the classic form of stop-motion, a painstaking technique that involves shooting endless frames of clay puppets set against handmade backgrounds,
Anderson believes that it has its own rewards. "I love the Pixar movies but it's not what I'm drawn to do myself," he says. "The process that they've developed to make those films affects the writing.
"With a film that is made on a computer you do a rough draft of the whole film and if they rewrite it they can then change the animation. It's not like one shot gets perfected and finished and then they go to another shot. Whereas with stop-motion, when you shoot it it's done and you better have it right otherwise you have to throw it out."
Anderson has not aimed his film at a particular age group. "I didn't think 'this is for children'. I just thought of what would be the most entertaining for me. It's a children's movie but it's for all audiences."
Anderson worked closely with Dahl's widow, Liccy, even penning the screenplay with his co-writer Noah Baumbach at the author's former residence, Gipsy House, in the Buckinghamshire village of Great Missenden.
Anderson has remained faithful to Dahl's original text, although he has expanded the narrative of the slim 82-page story. He names and develops the character of Mr Fox's son, Ash, who is voiced by longtime collaborator Jason Schwartzman.
"The book is about a family but the way that the family is fleshed out comes from Noah's experience and mine," he says. "As we were writing it, our goal was always to make it seem like something that Roald Dahl would have written but, in fact, it comes from our imagination from a certain point onwards."
Anderson also called on Bill Murray, who previously appeared in the director's 1998 breakthrough Rushmore, The Royal Tenenbaums and The Life Aquatic with Steve Zissou, to play Mr Fox's lawyer, Badger. However, his real coup was persuading George Clooney to take on the lead role.
"We had so much fun with him, which probably isn't surprising because the impression you get of him is of somebody who likes to have a good time," says Anderson. "He really helped us to get it done. He was up for anything. The thing that surprised me was how much of his performance comes through in just his voice. When we went back into the editing room, there was so much personality in what he had done."
Rather than recording the voiceovers individually in a studio, Anderson and the cast retreated to a farm in Connecticut. "I wanted them to be very natural and like a documentary," he says. "We had a script but it was a very naturalistic version of it. We were together and the actors could talk at the same time as each other in a very normal way."
Anderson enjoyed his first foray into stop-motion, although he is next planning to shoot a live-action movie. "Most of this film was spent working out how I could work in animation, which is a very complicated, involved process," he says. "We had to figure out all these systems and understand how animators work. You gain a lot from experience and, having done this movie, I now feel like I understand the process. I love this form and would very much like to do another one."
* Fantastic Mr Fox is out in cinemas from Thursday.