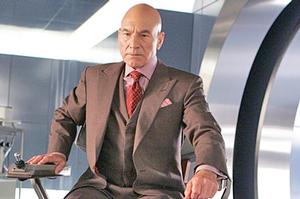 Patrick Stewart, the actor who has played parts as varied as Macbeth, Star Trek's Captain Jean-Luc Picard and Professor Charles Xavier in the X-Men movies, is joined by Rick Parfitt and Francis Rossi, who have been rocking all over the world for more than 40 years, and the Formula One champion Jenson Button in the British New Year Honours list.
There are also knighthoods for Nicholas Hytner, director of the National Theatre, the rugby legend Ian McGeechan, and Erich Reich, who was rescued from Nazi Germany 70 years ago when he was a child and is now chairman of Kindertransport.
But Prime Minister Gordon Brown has trodden carefully in drawing up what could be the last honours list of his premiership. Of 979 names on the list, there are no national politicians, and only one banker - from a bank that did not go running to the Treasury to be bailed out.
Downing St took one notable risk in agreeing that Cressida Dick, assistant commissioner at Scotland Yard, should be among those awarded the Queen's Police Medal.
Ms Dick is the most senior serving policewoman in the country, but is better known as the officer who supervised the botched operation that led to the fatal shooting of Jean Charles de Menezes.
An Old Bailey jury rejected the police's account of the shooting, but cleared her of personal culpability.
A spokesman for the Menezes family said: "Rewarding Ms Dick after her role in the biggest policing scandal of the decade displays woeful disregard for both the Menezes family and broader public opinion."
Until two years ago, it was common to see a clutch of bankers and professional investors in every honours list - such as Fred Goodwin, former chief executive of the Royal Bank of Scotland, who was knighted in 2004 for "services to banking". This time, the only banker honoured is Dyfrig John, chief executive of HSBC, who was made a CBE for "services to the financial services industry".
No national politician has been honoured since the Tory MP Peter Viggers was knighted in the 2008 birthday honours for services to Parliament. A year later, he announced his retirement when it emerged he had claimed £1645 ($3650) on expenses for a "duck island" in his garden.
Mr Brown's list contained few high-profile celebrities, though Patrick Stewart is now Sir Patrick, and Rick Parfitt and Francis Rossi, founders of the Status Quo rock band, can put the initials OBE after their names.
Jenson Button and Beth Tweddle, the gymnast, have been made MBEs. Ross Brawn, the Brawn GP team owner who made Button's success possible, is now an OBE.
Lauren Child, the best-selling author of the Charlie and Lola and Clarice Bean children's books, is made an MBE for her services to literature.
Dr Claire Bertschinger, who has nursed in some of the world's harshest environments and whose appearance in Michael Buerk's famous 1984 reports on the Ethiopian famine inspired Bob Geldof to organise Live Aid, is made a dame. She is among 441 women on the list, making up 45 per cent of the total in the highest proportion yet.
Six per cent of those honoured are from ethnic minorities. They include Mota Singh, QC, Britain's first Asian judge, who has been knighted, and Parmajit Bassi, chairman of the private investment company Bond Wolfe, who has been made aCBE.
Almost three-quarters of the awards were given to "local heroes" nominated by the public, notably including Norman Barrett, ringmaster with Zippos Circus, who is made an MBE in recognition of his 60-year career in the circus.
- INDEPENDENT