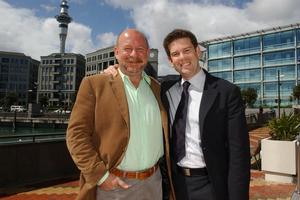 Before we could put our feet up and relax with the endless repeats and old movies of the silly season - or ignore it altogether if such stuff just makes your eyes bubble - there were Mark and John's end-of-year wrap parties to get through.
Viewers tired by the pre-Christmas frenzy had nothing to fear from Close Up's closing up the shop or Campbell Live's fade-out on the beach in Samoa, however. Warm and fuzzy was the order of the night: pretty much business as usual, then grump those of us who find the women's mag nature of the country's supposedly premier current affairs slots rather wearisome.
Close Up went for the "Christmas Cracker" approach, making a big noise and letting the goodies come flying out - or off, in the case of a repeat performance from fantastic nonagenarian swimming star Kath Johnstone, who likes to strip down to her togs on screen.
Promised the "news makers and the news breakers", what we got in the show's end-of-year doling out of "awards" was the firm impression that the major thing that happened this year was the visit to Auckland by a woman with huge boobs.
Another top story: the man who got trapped, naked, with his head stuck in a dryer - an event which some folk might fear could desiccate the brain a bit. But no, a beaming Sainsbury pointed out, the experience turned out to be a bit of a boon, publicity-wise and even helped the bloke get employment. "Yeah, I've blimmin' had a bit of work 'n' that," said our national hero for the year, the man who survived a fearful entanglement with a bit of domestic whiteware.
And also making headlines: a lot of Kiwis inspiring us with their achievements under adversity, such as limb amputation. Oh well, it's Christmas, so it would be churlish to complain about being swaddled in warm fuzzies, asked to admire a courageous spirit or three or having to suffer through an Idol-style version of that normally most solemn and reverential of carols, O Holy Night.
Somewhere among it all was a decision that the tsunami that hit Samoa in September should get the "award" for being the top story of the year. I was expecting the good people of Samoa to be invited on, Oscars-style, to make a gushing thank you speech for being worthy of the gong.
Plenty of gush, of course, on Campbell Live's 2009 finale, which plumped for a single theme party on Lalomanu Beach, devastated by the tsunami that hit Samoa in September, rather than a year's round-up.
How long until our host uses the word "dignity", I wondered as soon as the promos for the Christmas in Samoa special came up: a word obligatory in any story about a developing nation. Sure enough, it came in Campbell's opening spiel.
There were surreal moments: Samoan children singing about jingle bells and sleighs in snow on a tropical island beach, baking in 35C heat.
There were many melting moments: a tieless Campbell hitching up his trou to get at least his feet cooled off in the sea. And Mihingarangi Forbes, who really does seem to be a people person, wandered round hugging former interviewees from the first days after the trauma, playing Santa with the Christmas presents for the kids and doling out vouchers for something - I wasn't any more sure than were the recipients - from a show sponsor.
All very moving, so much so it moved me to, yet again, place a must-see, dry-eyed prime time current affairs show - even if only weekly - on top of my Christmas present wishlist.