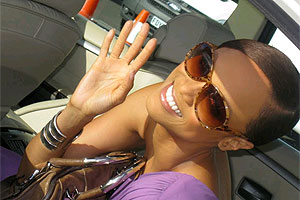 I've just got home from the highly-anticipated if not interminably-long lunch with Tyra Banks at The Wharf on Northcote Point. So highly-anticipated, some late RSVPers were turned away from the door.
Others, like NewstalkZB ZB producer Nadia Tolich, didn't have a seat. She found her name card, but a seat wasn't so forthcoming. She pulled up a pew at our table alongside Kerre Woodham and Keisha Castle-Hughes and pulled out her camera to take pics - a strict no-no at this event, where security, we were told, would be tight.
I wasn't sure what to expect of the luncheon, to be honest. I anticipated there would be some annoying American accents. Tick. I expected a lot of female media guests and a handful of gay fashion men. Tick. I knew Ms Banks would look fabulous. She did - in a violet wrap dress that clung to her every curve.
The event was called, and I quote: "1st Ever Global B.I.O Diversity Summit - beauty, inside and out". It's a mouthful. I had no clue what it meant.
The invitation arrived in my inbox like Tyra mail and we were instructed to bring the invitation with our guest number for a strict security check upon arrival. A mobile phone check-in would be on hand too, though it wasn't.
In fact, security wasn't quite that rigid. A delightful helper from the Starship Foundation was on hand ticking off names at the door. Denise L'Estrange-Corbet was worried she may not get in because she hadn't brought her invitation, but she was given a big hug on entry by the lovely door women who recognised her face.
This was security Auckland ladies' luncheon style. In fact, the only security present was a big burly bodyguard who trailed Tyra's every move. Ms Woodham mistook him for guest judge Nigel Barker.
Sara Tetro, the Tyra-equivalent in our locally-made version of the show, stood on the stage, pearly whites gleaming back. She is very pretty in the flesh but her monotone voice and dreary personality proved the wrong choice for the master of ceremonies role. Next to the formidable Tyra Banks, who is personality-plus, Tetro melted into a puddle of insignificance.
Banks made a heart-warming, if not predictable, speech about young women and body image and she recounted a story about her mother that brought on the water works. Hers, not ours. One cynic at our table wondered how she'd managed to cry on cue given that she'd probably recounted that story a million times. To my untrained eye the tears looked genuine, but I should have asked Keisha, who was sitting next to me, if it was an Oscar-worthy performance.
Banks, in purple, sat next to the Prime Minister's wife, Bronagh Key, in fuchsia pink. She is gorgeous in the flesh. All tall and teensy with full breasts and a miniature waist. She really is a glamazon goddess. And the best bit: she woofed down her fatty chicken risotto, practically licking the plate clean.
- Rachel Glucina