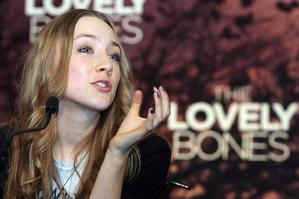 Susan Sarandon and Saoirse Ronan have found a way to spice up their interviews - they're choosing random words, such as "anthropology", "steamboat" and "eyeball", and competing to see who can use the words more in their media comments.
The stars of The Lovely Bones were in Wellington today ahead of the film's New Zealand premiere at the Embassy Theatre tonight.
"Steamboat", says Ronan, was "quite difficult", whereas "anthropology" was "fine".
The 15-year-old Irish actress, who plays murdered girl Susie Salmon in Peter Jackson's adaptation of the Alice Sebold novel, also joked that she was thinking of returning to her character's CGI heaven, "the in-between", this summer - as long as she was able to return.
Many critics believe her performance in the film could earn her an Academy Award nomination - it would be her second in as many years after last year's nod for best supporting actress for her role in Atonement.
But she's trying to ignore the Oscars hype "because sometimes it can just get in the way".
"It would be wonderful if it did happen. This film means an awful lot to me and I really, really enjoyed working with the guys and I worked on it for a long time so it would be fantastic, but I don't think it's really something that any of us are thinking about."
At a press conference this afternoon, Jackson, looking a shadow of his shaggy, rotund former self, wouldn't be drawn on the film's awards-season chances, saying only that he had seen James Cameron's animated epic Avatar, and it was "the film to beat".
He describes The Lovely Bones as "a personal adaptation" by himself and screenwriting partners Fran Walsh and Philippa Boyens, with a smaller budget than the trio's other recent projects - including the Lord of the Rings trilogy and King Kong - giving them the ability to take more risks.
"You can't adapt the book perfectly to please everybody that's read the book, obviously, so you'll end making your own decisions about what ... to leave in, what to take out."
Critics are divided on the film - Britain's Sun called it "the best film of next year", while Variety slammed it as "a significant artistic disappointment " - but Jackson says he's not particularly nervous about how audiences at home will respond to the film.
"You're always nervous when somebody sees your film obviously but this is the fun premiere tonight...
"The heart of the film is here - it's where we live and work so this does feel like coming home."
- NZPA