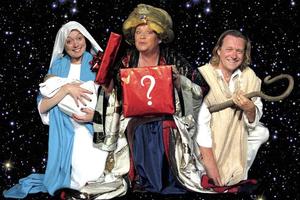 The great Christian polemicist G.K. Chesterton believed the test of a good religion is whether or not it can laugh at itself.
This principle will be sorely tested by Christ Almighty! - the Basement theatre's Christmas shindig featuring a cross-dressing Angel Gabriel, a shamelessly horny shepherd, and some truly scandalous speculation on the relationship between Joseph and his donkey.
If such blasphemies were aimed at the Prophet of Islam, the consequences would be dire. But Christians can be glad they belong to a joyful faith which teaches its followers to love those who mock them.
In a series of eight monologues the Nativity story is transformed into a kind of X-rated version of The Life of Brian , and, as in the Monty Python classic, the frivolity is peppered with some ironic reflections on religious experience.
The playwrights Natalie Medlock and Dan Musgrove display a remarkably thorough knowledge of biblical history that stretches to an awareness of the Jewish historian Josephus' account of King Herod providing financial support for the Olympic Games.
At one point a forlorn Joseph is meditating on the incommensurable difference between the Creator and mankind as he constructs a hilarious visual metaphor that somehow manages to be both theologically sound and outrageously irreverent.
A different cast appears each night, with television stars, theatre veterans and eager newcomers all donating their services to raise funds to upgrade Basement's medieval dressing rooms.
On the night I attended, Michael Hurst brilliantly captured the brittle emotions of a wayward angel locked into a love-hate relationship with his Creator.
Morgana O'Reilly brought the house down with her depiction of the Three Wise Men, who are contained within a single wise woman suffering from an explosively volatile multiple-personality disorder.
Robbie Magasiva delivered a finely judged mixture of ironic understatement and theatrical exuberance in a performance that would make him the ideal studio guest if Oprah Winfrey were to devote an episode to the plight of abused fa'afafine donkeys.