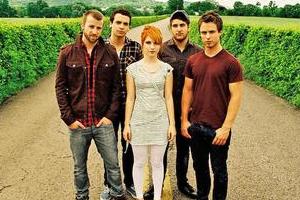 Speaking of Twilight mania, Paramore, the band who gained a lot of momentum by giving a couple of songs to the first film's soundtrack, have announced a gig, or two, Downunder.
The five-piece from Tennessee will play two shows in March - at Auckland TelstraClear Pacific Events Centre on the 4th and Christchurch's Westpac Arena on the 5th.
Led by the flame-haired Hayley Williams, Paramore's latest album, Brand New Eyes, is hitting platinum all over the world, has sold more than 10,000 copies here, and they are on their way to New Zealand as part of a world tour which started in the US in October.
Alt-rock band Wilco have also announced two New Zealand gigs with Don McGlashan in April. They will be at The Civic on the 27th before moving down to Wellington. Some of the band's members were here for Neil Finn's 7 World's Collide concert in January. And as well as all that American pop, rock and alt, punk icon Grant Hart, who was a third of the 1980s band Husker Du, has also announced a New Zealand tour in February. Hart's been pursuing
his own eclectic, thematic music since the band broke up in 1987.
The Old Crow Medicine Show , the string alt-country band from Tennessee, joins the jam-packed March tour trail with gigs at the Powerstation on the 18th, followed by Hamilton, Hastings, Palmerston North, Wellington and Christchurch.
And the fresh-faced alt-rockers straight out of Brooklyn, the Dirty Projectors will be also be bringing their experimental set across. They have a gig at the Montecristo Room on March 3 and then another in Wellington on March 4.
Texan Grammy winner Lyle Lovett, the singer-songwiter with 13 albums to his name, has also announced he will be playing a gig at ASB theatre on Saturday March 21, before touring Australia. The veteran songwriter is witty, wise and tells some Texas-sized stories. Fans can expect to hear classics, favourites, and a selection of songs from his new album Natural Forces, which will be in stores on Monday.