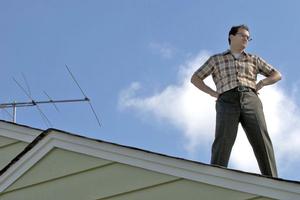 Rating: * * *
Verdict: More grim than funny.
More squirm-in-the-seat than laugh-out-loud, the new comedy by the Coen brothers is, characteristically, an absurdist metaphysical rumination. It is also, not incidentally, their most explicitly Jewish film - there's scarcely a Gentile character in it - so it's full of existential deadpan that's bleaker than bleak. It may be less playful than their last, Burn After Reading, but like almost everything they've done, it responds with a maniacal chuckle to the idea that life is meaningless.
The life in this case belongs to Larry Gopnik (Stuhlbarg), a physics professor at a university in Minneapolis (the Coens' hometown) in 1967 - Jefferson Airplane's Somebody To Love booms under the opening titles and crackles through a teenager's bakelite earplug.
Larry's work world may be all assured blackboard proofs but life at home in a treeless expanse of split-level suburbia is a miasma of uncertainty: his wife (Lennick) is leaving him for his pompous best friend (Melamed); his kids are a pain; his unemployable brother (Kind) spends hours in the bathroom with a small suction pump; and the tenure that Larry longs for seem always just beyond the horizon.
He is, in short, a latter-day Job - a pre-title sequence recounts an old Polish folk tale about being cursed by God - and the film, like its prologue, is at once simple and impenetrable. It may be a meditation about the unknowability of God but it's full of knowing winks about the incomprehensibility of life as well: in one subplot, the father of a Korean student wants to bribe Larry for a better grade and then sue him for suggesting he might offer a bribe.
It reads like farce but visually it's shrouded in menace: faces are shot in looming close-up; Larry on his roof adjusting his TV aerial is like a mariner becalmed in an endless ocean. There is no doubting the technical dexterity on show here.
But it's finally more grim than funny and leaves us with the same uncomfortable feeling that Burn did: that the boys are more interested in their own amusement than their audience's.
Peter Calder

Cast: Michael Stuhlbarg, Richard Kind, Fred Melamed, Sari Lennick
Directors: Joel and Ethan Coen
Running time: 105 mins
Rating: M (violence, offensive language, drug use)