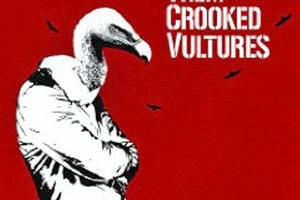 Rating: * * * *

Put simply, Them Crooked Vultures sound like Queens of the Stone Age, Foo Fighters and Nirvana, and of course, Led Zeppelin. Not a bad combination really. This supergroup, made up of Led Zep's bass player and keyboardist John Paul Jones, the Foo's Dave Grohl on drums, and singer-guitarist Josh Homme of Queens, got together earlier this year, announced a world tour, and then the release of this album.

It's Homme, the least famous of the three, who dominates with his mangled take on rock'n'roll, which is full of heavy melodic riffs, and that sweet but spaced-out voice seeping through.

Yet there's no denying Grohl and Jones' contribution. The former, with his lucid hammering style, is one of the best drummers around, and is straight to the fore on opening chugger No One Loves Me And Neither Do I; and JPJ remains a bass-playing great who also throws other instrumental flourishes into the TCV's mix just like he did in Zeppelin. His Superstition-style keyboard on Scumbag Blues should sound wonky and wrong, but it's inspired, and he has to be responsible for the deranged orgy of exotic sounds on the sick and saucy Caligulove.

TCV's are at their best when songs like Elephants and Bandoliers warp effortlessly from a sluggish and dingy groove into something crisp and majestic. Another highlight is the debauched carnie discord of Warsaw Or The First Breath You Take, which touches on the desert psychosis rock of Queens as it sprawls out across seven minutes.
Lyrically, Homme comes up with some of his best and most twisted lines from "catching tigers by the tail" on Gunman, with its cosmic gonzo metal groove, to being "plucked from the garden of wretched beliefs" in Elephants.

Elsewhere there's the wailing blues rock of Mind Eraser, No Chaser; woozy first single New Fang; and the dark desert boogie of Dead End Friend (yet another Homme road trip anthem).

It's a powerful, cocky, and gutsy record - and so it damn well should be considering these guys are legends in their own lifetimes.

Scott Kara

* See TimeOut this weekend for an interview with John Paul Jones.