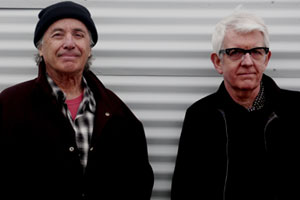 When the charming, rake-thin Nick Lowe promised he and slide-guitar legend Cooder (with Ry's son Joachim on drums) would play old songs, middle-age ones and some fresh and green, he wasn't joking.
He reached back to the early 80s for a rockabilly-lite version of his pop hit Half a Boy, Half a Man and - in the welcome encore - a slow, thoughtful treatment of (What's So Funny 'Bout) Peace Love and Understanding from the mid 70s.
And Cooder picked up Crazy 'Bout An Automobile, Down in Hollywood, Little Sister and Borderline from his distant back-catalogue.
There were middle-age songs and Cooder added a new one, a melancholy and penetrating The Shrinking Man which hushed the house.
This was a cleverly programmed concert. But much more than that: Lowe was in terrific voice melding classic crooner with country-soul; Joachim punctuated deftly and shifted the tonal colours; and of course Ry Cooder was the man most had come to see.
He once said his voice sounded "like geese farts in the wind" but that is untrue: he could be as black as Southern blues man (on another old one Fool For a Cigarette), or as sweet as a Latin lover.
Then there was his mercurial, fluid slide guitar, peeling away the melody to its essence or finding more fiery richness, or getting the instrument to speak sweet and low.
There was Hispanic funk (Chinito Chinito), hints of Hawaii and rural blues, a Spanish tune morphing into the classic country-weeper He'll Have to Go and (with Juliette Commagere and Alex Lilly on occasional harmonies), this concert rose past the highest expectations.
Commagere and her band opened with a set which impressed for its diversity (a Spanish ballad to U2-framed guitar rock) but her voice made less of a distinctive impact outside the more sultry songs.
That said, right to the encore - which included Cooder on the aching How Can a Poor Man Stand Such Times and Live - this was masterful musicianship, warmth from the stage, and music of sometimes great emotional depth (or twisted humour in Tintin-haired Lowe's vengeful Cryin' in My Sleep) which was uncompromisingly delivered.
Exceptional.