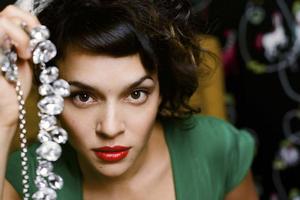 There's always been a little more bite and attitude to Norah Jones than her sweet breezy lilt and dulcet music might suggest.
She staunchly shunned the fame she received following the release of her 2003 debut, Come Away With Me, when she was just 22. It made her "uncomfortable" she has said in the past. Not surprising considering it sold more than 20 million copies - 180,000 of those in New Zealand.
Nor has she let the jazz-lite cafe music tag her music got lumped with get to her.
And perhaps one of the best examples of this girl being a bit of a dark horse was her potty-mouthed guest spot on the track Sucker by Peeping Tom in 2006, a project headed by musical maverick and Faith No More singer Mike Patton.
During the song she purrs a word made infamous most recently by Hone Harawira over and over in a cheeky and saucy duet with Patton. Wash your mouth out, Norah.
Still, with the release of The Fall, even her record company - iconic jazz label Blue Note - is out to dispatch the "Snorah Jones" syndrome once and for all. In the press release for her latest album, it begins with a quote by an overseas music magazine proclaiming: "Out goes Snorah, in comes gothic blues woman".
They need not stick up for their star signing because on the phone from her home in New York, Jones has a laid-back toughness to her.
"I'm no different, I'm just older," laughs the 30-year-old as she reflects on the crazy eight-year ride which has seen her release three albums, tour the world, and star in the film My Blueberry Nights, which was nominated for the Palme D'Or at the Cannes Film Festival in 2007. "I guess my tastes have changed and I'm more confident, which comes with age, and I'm a lot more easygoing now and not as quick with my temper. You know how it is when you get older? Things that bothered you then don't bother you in the same way."
She's come along way since dropping out of university in Texas, aged 20, and moving back to her hometown of New York to be a jazz singer. By 22 she was hot property, thanks to songs like Don't Know Why; she released Come Away With Me which went on to win eight Grammy Awards; and to date her three albums have clocked up more than 36 million sales worldwide.
But in the last few years things haven't been all rosy. After her last album, Not Too Late, she toured for more than a year and "got a little burnt out". She took some time off and in the first year wrote songs, many of which turn up on The Fall, indulged her love of cooking, travel, and "watched a lot of movies and hung out with friends".
She also split up with long-time boyfriend and band mate Lee Alexander, and parted ways with her band the Handsome Band. Not that she talks about it, but it's obvious from The Fall that the breakup was a big upheaval since she and Alexander were inseparable - "We're practically married," was how she described their relationship the last time TimeOut spoke to her in 2007.
It comes through on new songs like the beautiful and consoling I Wouldn't Need You and You've Ruined Me, where she sings "I'm trying to part with what's in my heart". Combine this sentiment with the wiser, more grown up Jones and it makes for a more intense album.
It's also her most interesting and diverse to date with the smouldering and dusty country twang of Stuck (co-written with Will Sheff of lo-fi Texan folkies Okkervil River), and the beautifully fragile Waiting which leads into the tough and pulsing bluesy-jazz of It's Gonna Be, the heaviest song Jones has recorded.
She also stretches her vocals more this time round, going from her trademark coo to soaring heights - and there's even some venom in her lyrics like, "There's a fine line between a skewer and a decent sense of humour," from It's Gonna Be.
For Jones it was all about experimenting and "trying different sounds and creating different textures".
"I think for this record I was going for more prominent grooves on the drums and the rhythms - and I think we got it," she laughs.
After three albums she has become an accomplished songwriter but, she recalls cheerily, recording The Fall was a very different process. Firstly, she had a heap of songs to choose from. "My songwriting has gotten way more frequent," she laughs. "I'm more confident in it and I think it's changed a lot. It's just sort of evolved. And it felt good to play these songs. Now, it feels like I know my voice better," she continues.
Also for the first time she had a new band and a new producer, Jacquire King, on board who has worked with Kings of Leon and Tom Waits in the past (he worked on Jones' favourite Waits' album Mule Variations.) As well as Sheff, another prominent guest is alt-country star Ryan Adams on the lovely Light As A Feather. "I've been a fan of Ryan like, forever," she says of Adams who she met five years ago and collaborated with on his 2005 album Jacksonville City Nights.
"So we were just hanging out and I had a song I couldn't finish and so he finished it for me," she giggles.
"Writing with other people can make for very different experiences. When I write with my friend [and long-time co-writer] Jesse Harris we come up with stuff together, both music and lyrics. But when I wrote with Ryan and Will I had some musical ideas but then they came up with most of the lyrics, and they tweaked the music as well. So lyrically it took me a while to actually sing those songs, and embody them, because the words came from them. So that was different, but once I got the song, I really liked the result."
When talking about The Fall, and her music, Jones is forthcoming. On other topics, she's reticent. She dislikes talking about her family, especially her father, legendary Indian sitar player Ravi Shankar.
Is music in the blood? "I know plenty of people who worked harder than anyone in music school but just weren't that great a musician.
And then I know plenty of people who don't play that much but are just naturally musical. But it's what you do with it, too," she says bluntly.
And she's dismissive of where her career is at now. "That's not for me to answer. But hey, if I don't sell any more records I'm still going to play, that's all I can do."
She sure ain't no delicate wallflower and one imagines, even in this day and age of waning album sales, she won't have any trouble selling another couple of million-or-so to take that lifetime tally over the 40 million mark.
LOWDOWN
Who: Norah Jones
What: Mega-selling jazz musician
New album: The Fall, out Monday.
Past albums: Come Away With Me (2002); Feels Like Home (2004); Not Too Late (2007)