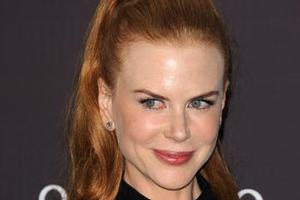 Notoriously media-shy Nicole Kidman is opening the ex files and flipping the lid on her sex life.
In one of her most candid interviews to date, Kidman, 42, who was married to Tom Cruise for ten years, reveals how her relationships have seen her experience everything from "strange sexual fetish stuff" to "the mundane".
Kidman, now married to country singer Keith Urban, spilled the beans to British GQ magazine, while adorning the cover in sexy black underwear and thigh-high boots, no less.
'Strange sexual fetish stuff'
"I've explored loss and love in terms of being in a grief-stricken place, I've explored strange sexual fetish stuff, I've explored the mundane aspect of marriage, and monogamy," she said.
Shocking. Only she wouldn't elaborate with whom she shared the kinky stuff with...but does go on to describe her current union with Urban as both "incredibly raw" and "incredibly dangerous".
"You work on it," she explained.
"It's a very extraordinary, adventurous place to be: incredibly raw, incredibly dangerous and you're very much out at sea.
"You're exposed. You could drown. When you commit to someone like that, you live and die together by that decision."
Secrets
Enough about her sexcapades. TMI. Let's get to the juicy bits, i.e. the lowdown on what really happened between her and Cruise.
Sadly, she refuses to go there, vowing to take her secrets to the grave.
She also admits that her marriage to the Top Gun star had helped skyrocket her own career. "I became famous very young. I became very famous because I was the wife of somebody.
"I did a lot of good, worthwhile work in Australia between the ages of 14 and 19 and then I married someone famous. And really, despite the huge profile that brought to me, I was still finding my feet."
She continued: "I know my agents at the time were like 'Do not get married! It will ruin your career!' and I was like 'But I'm in love!
"All I know is that I wasn't someone interested in fame. And that's not why I got married. I wanted to work with people who intrigued me."
The couple tied the knot in 1990, after they clapped eyes on each other on the set of Days of Thunder. She married Kiwi-born Urban in 2006 and gave birth to their first child, Sunday Rose, last year.
Tom schtum

Kidman also reveals how she kept a diary during the Cruise years, but set fire to them shortly after she married Urban.
"If you know what's going on inside somebody's head all the time, that's not a good place," she said.
"You can't read somebody's diary. You shouldn't read it. I burnt most of my journals after I remarried... You're only going to find out bad things."
And while speculation has been ever-present following her split from Cruise, neither of them have dished the dirt and explained what caused their rift.
"I want to honour that marriage for what it was, and there is nothing I would go into about that. I have never discussed the intricacies of it and I never will," she adds.
"I am not writing a book. I will go to my grave with all my secrets, all my stories."
Eyes Wide Shut
And as for looking for signposts as to why she and Cruise split, she said we shouldn't look to their joint kink-fest flick Eyes Wide Shut for inspiration.
"We were pretty happily married throughout that period," she said.
"People will always watch the movie in hindsight and go, 'Oh no, that must be where it all went wrong.' I don't want to say whether anything is or isn't true any more."
Good for you, love. Still, we're intrigued by the sexual fetish confession. Who knew Kidman had it in her. Just shows you never know what goes on behind closed doors...
Talking of couples...

Stoking the fire under their rumoured romance, Robert Pattinson & Kristen Stewart pop up between the covers of Harper's Bazaar magazine.

Blogger's Briefs

* Lindsay Lohan's blabbermouth father has followed through on his promise and released a tearful tape of his daughter crying for help. Listen to the disturbing recording here. Shame on you, Michael.
* Katie Price (aka glamour model Jordan) is to go up in flames. A 30-foot effigy of Price, holding the heads of her ex husband Peter Andre and current bloke Alex Reid, will be set alight this weekend in the UK. Moving tribute here.
* XXX. Shamed former Miss California in alleged 'sex tape' shocker, according to TMZ.com. How's that for good 'ol wholesome morality. How embarrasing. Scandal here
Blogger Bites Back
P.S. If we're not spreading the gossip gospel here, we're lurking on Twitter. Follow us here
Pictured: Nicole Kidman and, inset, former husband Tom Cruise. Photos / AP