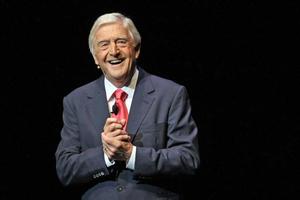 Michael Parkinson was just like I thought he'd be. We (the audience) didn't know him and he certainly didn't know us. But by the end of the night, we felt as if we'd known him all our lives.
And isn't that his special gift? His empathy and his warmth, and his attentiveness - qualities on full display to more than 2000 people who packed Auckland's ASB Theatre for Parky - The One-Man Show.
The 74-year-old's show to celebrate his 50 years in broadcasting encapsulated the breadth of his life, from his coal mining-town upbringing to becoming the world's most recognised talk-show host.
The show, though, was really about his guests and his interviews with them ... guests such as John Lennon, who agreed to a 1971 BBC interview but only if Yoko Ono could come on the show. And, if Parkinson mentioned the Beatles he had to jump in a sack.
When inevitably the Beatles were brought up, the sack appeared - and the interview proceeded.
"A great man, a good pal and an extraordinary story," Parkinson said of Lennon, with whom he was friends before the interview.
Parkinson also interviewed Mick Jagger, two years after the formation of the Rolling Stones, asking him, "How long do you think you'll keep doing this?"
To which a young Jagger, in all seriousness, replied: "I think we're well enough set-up for at least another year."
Henry Fonda once told Parkinson, on his show, what a wonderful woman and actress his daughter Jane was, saying he had seen it in her even before she entered the profession. Jane told Parkinson years later he'd never said anything like that to her. The earlier show was the only time she'd had that type of communication with her father.
Of his favourite guests, Parkinson named Billy Connolly and Muhammad Ali - the only two for whom viewership would jump "two to three million every time they came on". Connolly eventually ended up living next door to him for five years.
There were many more tales and a moving rendition of Moon River in tribute to late friend Dudley Moore.
* Parky - The One-Man Show is performing in Wellington on Friday at the Michael Fowler Centre and in Christchurch on Monday at the Isaac Theatre Royal.