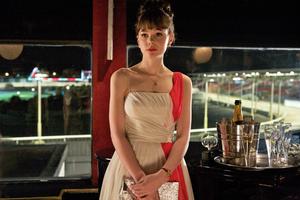 Rating: * * * * *
Verdict: Beautifully written and acted, dazzlingly entertaining.
To watch the young actress at the centre of this delightful film is to recall Audrey Hepburn at the same age: the 24-year-old Mulligan's star-making turn has the same radiant intensity about it, an irresistible combination of barely bridled passion and effortless grace.
Based on the memoir of the same name by English journalist Lynn Barber - to whose teenage self, incidentally, Mulligan bears an almost eerie resemblance - it's a coming-of-age story that would be remarkable in any era. But set as it is in London in 1961 - which, as writer Nick Hornby has observed, was not yet 60s London - it's astonishing.
The Barber character, Jenny, is the star senior pupil at a prim and proper girls' school. She's a virtual shoo-in for Oxford, but she resents her drab, cramped life in suburban Twickenham; smoking Gauloises and reading Camus in Paris is more her style. When David Goldman (Sarsgaard), a debonair older man in a sports car takes an interest in her, she senses the chance to escape her predictable fate.
She's smitten - all the more when he takes her to jazz clubs and fancy restaurants.
How it all unfolds is best left to Hornby's precise and compact script to reveal, but it's worth saying that it's far from entirely predictable, and it's blessed with an ensemble of pitch-perfect performances.
It's no surprise that David is not what he appears to be but Sarsgaard's performance is so delicately ambiguous that we are almost as charmed by him as Jenny's parents, new arrivals to the middle class whose snobbery makes them a perfect mark.
Supporting roles, too, are splendidly handled: Molina invests Jenny's spluttering, pompous Dad with a real pathos; Pike as Jenny's new party-girl friend is a blonde so dumb she's practically subversive; Thompson's cameos as Jenny's headmistress contain a whole lifetime in a few sentences.
Director Scherfig, a Dane (Italian for Beginners; Wilbur Wants To Kill Himself) deftly lights and edits the film to lend it a slightly larger-than-life look and pace that perfectly evoke Jenny's point of view.
It has the desired effect: we can't take our eyes off her.
Peter Calder

Cast: Carey Mulligan, Peter Sarsgaard, Alfred Molina, Dominic Cooper, Rosamund Pike, Olivia Williams, Emma Thompson
Director: Lone Scherfig
Running time: 95 mins
Rating: M