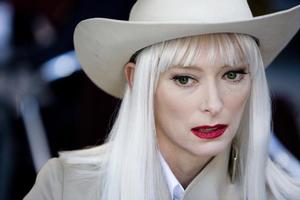 Rating: * * *
Verdict: Ravishing but wilfully obscure.
Ivory Coast native De Bankole has a face made for mystery. Deep-browed and leonine, it radiates composure, which makes him the ideal companion on the wilfully obscure mystery tour that is Jim Jarmusch's latest movie; when we don't have the faintest idea what's going on, he seems so untroubled that we're prepared to go along for the ride.
Jarmusch, the indie master of the deadpan existential comedy, has used Bankole before: he was the Paris taxi driver in the wonderful Night on Earth and he had a segment in the work-in-perpetual progress Coffee and Cigarettes and a role in Ghost Dog.
Here, his name (as the end credits reveal) is Lone Man, and he strides bow-legged in a succession of shimmering suits from scene to scene, encounter to encounter, a man on a mission.
It's not hard to deduce what kind of mission it is, since one of the movie's many knowing stylistic allusions is to film noir (although the ravishing colour photography by Christopher Doyle is so drenched in meaningful splashes of blood-red that it might be more apt to call it film rouge).
In short, Lone Man is a hitman, but he doesn't get a simple photo of his target. His instructions, delivered through an interpreter in an anonymous airport, include such observations as "everything is subjective; reality is arbitrary". This film may be most interesting to those who regard that as an original idea.
Not daunted, Lone Man flies to Madrid where he moves from meeting to meeting with an oddball gallery of people who could exist only in a Jim Jarmusch film: a white-blond Swinton with a clear plastic umbrella; a coquettish de la Huerta wearing nothing but horn-rimmed glasses; a wild-eyed Hurt as a literate cafe-table philosopher.
Each conversation begins with the question (asked in Spanish) "You don't speak Spanish, do you?". At each meeting, Lone Man trades a matchbox for another containing a folded piece of paper with a dozen digits on it, which he memorises before swallowing the paper. Occasionally he gets further directives like "Wait three days until you see the bread. The guitar will find you."
Following as it does Jarmusch's most accessible and commercial film, 2005's Broken Flowers, this may be an attempt to reassert the director's right to be baffling and the allusions that didn't escape me - to Welles, Hitchcock, Tarkovsky - suggest there is plenty for cinematic trainspotters to chew over.
But it is certainly a film for those who regard formal control, which it has in abundance, as an aesthetic satisfaction in itself. I found it engrossing but finally quite hollow, easily Jarmusch's coldest and most unapproachable film since Ghost Dog, which is most closely resembles.
To really enjoy it, you may have to agree with the line uttered by the Swinton character at one point: "The best films," she says, "are like dreams you're never really sure you had."
Peter Calder

Cast: Isaach De Bankole, Alex Descas, Jean-Francois Stevenin, Luis Tosar, Paz de la Huerta, Tilda Swinton, Youki Kudoh, John Hurt, Gael Garcia Bernal, Hiam Abbas, Bill Murray.

Director: Jim Jarmusch

Running time: 116 mins

Rating: M (contains offensive language)