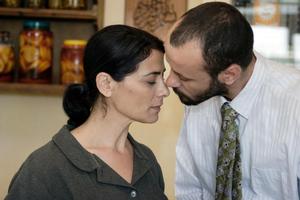 Rating: * * *
Verdict: Potent political allegory.
The premise is improbable - the new Israeli Defence Minister sets up house right on the border between Israel and the Palestinian Territories - but it suits the purposes of this small, impressive film, which is a political allegory with the timeless force of fable.
The house adjoins a grove of lemon trees that the father of Salma Zidane (Abbas) established 50 years ago and which she, a young widow, tends with the help of an old family friend (Copti). But the security goons fear the leafy rows could conceal terrorists. In short order, Salma finds a watchtower on her boundary and the state wanting to bulldoze her orchard.
In depicting the battle of wills that ensues, Riklis and co-writer Suha Arraf are alive to the multi-layered complexity of the issues raised: Salma's son in America says the grove isn't worth fighting for; the man who translates an official letter for her - she doesn't speak Hebrew - warns her that accepting Israeli compensation would be frowned on by her own people; an old family friend chides her for seeing, unchaperoned, a young lawyer (Suliman) who is helping her out.
Meanwhile, on the other side of the fence, the minister (Tavory) has problems of his own as his wife (Lipaz-Michael) becomes increasingly conflicted.
That the story, which unfolds against the background of the building of the infamous separation barrier, is told without sensation or hysteria may be inferred from the censor's rating. It's a gentle film, more of sorrow than anger and it's sustained by the quiet grace of Abbas, a Palestinian actress who won Israel's top acting honour for the role. It has some moments of clumsy plotting or heavy-handed symbolism, but it's a powerful piece of work and a reminder that in ethnic and religious conflict, nobody wins.
Peter Calder

Cast: Hiam Abbass, Ali Suliman, Rona Lipaz-Michael, Doron Tavory, Tarik Copti
Director: Eran Riklis
Running time: 106 mins
Rating: G. In Arabic and Hebrew with English subtitles