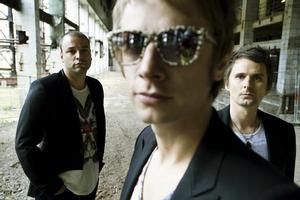 Next year's Big Day Out is a British invasion.
Pomp rockers Muse headline the one-day festival at Mt Smart Stadium on January 15, and also along for the summer Downunder jaunt are fellow Brits Lily Allen, rock bands Kasabian and the Horrors, dance act Groove Armada, and lippy hip-hop star Dizzee Rascal.
It's been a steady rise to top billing for Muse who have played the main stage in 2007 and 2004, but next year's headline spot is testament to the band's rising popularity, with latest album The Resistance debuting at No 1 in New Zealand and Australia following its release on September 14.
Like Similar to Muse, several acts announced this week have played here before. Allen - the biggest pop star in Britain - played in 2007 off the back of her debut album Alright, Still, and Dizzee Rascal was here as recently as 2008.
Meanwhile, arty American prog metallers the Mars Volta and Canadian electro freak Peaches make their third BDO appearances, and Chicago's melodic hardcore punks Rise Against are also back following a fist-raising performance in 2005.
It will be the Mars Volta's fifth visit to New Zealand since forming in 2001, and follows the release this year of the band's "acoustic" album Octahedron. That's their version of acoustic by the way, so don't expect their impressive live show to be any less crazy and unhinged.
Atlanta heavies Mastodon are sure to be one of the day's highlights; their latest album, Crack the Skye, looks set to be one of the albums of the year. The band, who take progressive metal to a whole new level, were last here in 2007 in support of Slayer.
Elsewhere on the line-up is Scottish synth pop singer/songwriter and current hit-maker Calvin Harris, nutty American mash-up artist Girl Talk (real name Gregg Gillis), and Portland baroque folk rockers the Decemberists.
Then there's returning Aussie acts Powderfinger and Eskimo Joe, and first-timers from across the Tasman like metallers Karnivool and post-punks the Temper Trap.
Leading the local charge are Ladyhawke, Kora and Dimmer, along with rapper PNC, current chart-topping diva Gin Wigmore, electro-pop trio Minuit, musical wizard James Duncan and The Checks.
If anything, the 2010 line-up lacks a drawcard for older music fans, who were treated to Neil Young this year. Though there were rumours veteran rocker David Bowie was going to headline the festival, it came to nothing.
There are two more line-up announcements to be made in the coming months. Tickets, which cost $132 (plus booking fee), go on sale October 9.