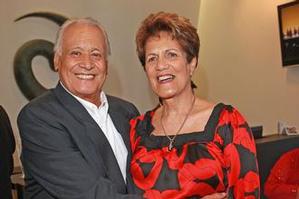 Admirers call her a stunner, but even as she prepares for the final farewell Lady Kuia Morrison is still thinking about those around her.
In what must have been an exhausting day for whanau members, four groups numbering in their hundreds waited patiently for hours in squally rain and fierce winds for their chance to acknowledge Sir Howard, with Lady Kuia at the side of her husband of 50 years.
The 72-year-old, who was flanked by Dame Malvina Major, consoled mourners including singers Tina Cross and Jackie Clarke with reassuring hands on their backs as they moved towards her through the sea of women sitting around Sir Howard.
They each took turns at bending down to Sir Howard, kissing their palms and touching him for the last time.
Earlier in the day, Lady Kuia had sent one of her friends - who didn't want to be named - over to whakaturia (the dining room).
"She sent me down here and said 'go and see what's for lunch so I can go and thank the cooks'.
She is a really, really down-to-earth person.
"She's a stunner but she doesn't like to be called that. Everyone knows how strong she is, I love being around her."
The marae ran like a well-oiled engine yesterday.
On downtime between large groups of mourners going through to eat, workers cleaned windows before toddlers came along to blow kisses against them, while actor Temuera Morrison kept the tides of human traffic moving in the right directions.
Many speakers remembered the magic of the 1960s when Maori showbands were in their ascendancy in Sydney.
Paul Walden toured with Sir Howard for three years - that was when the pair used to brylcream their hair and spray Old Spice on their "chops".
"All the girls came running but unfortunately they kept running in the other direction," he joked.
Other musicians such as Frankie Stevens and Maori Volcanics band members Nuki and Hemana Waaka were there, as well as Solly Pohatu, an original Maori Hi Five band member.
When visitors unwittingly stepped on tikanga or the rules of the marae, the home people were largely tolerant.
One woman was invited by her husband to help him with his speech, although women are not permitted to do that at Te Arawa's premier marae.
She was gently admonished to "waiata, waiata" instead - the most fitting tribute for a man who sang so well, for so long.