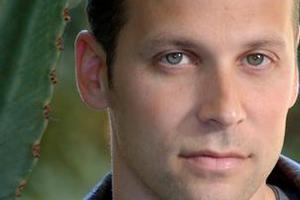 What kind of a twisted mind comes up with a plot like this? That's the first question I ask American writer Gregg Hurwitz who is in Auckland promoting his latest thriller, Or She Dies (Sphere, $37.99). It's the story of a washed-up Hollywood screenwriter who is sent a DVD containing footage taken by hidden cameras around his home. As he battles to work out who's spying on him, the mysterious watchers are always one step ahead in a twisty-turny intrigue that should keep the reader powering through the pages.
Hurwitz agrees it takes a certain sort of mind to plot a thriller with such a strong gust of paranoia blowing through it. "Most of the time I'm thinking about what could go wrong," he says. "A common question I ask myself is: what's the worst thing that could happen right now? ... It's not a pleasant way to be in the world, I suppose, but it's where I get a lot of my ideas."
Hurwitz writes stories about ordinary men in extraordinary circumstances. In Or She Dies the story opens with the worst run of luck the main character, Patrick Davis, has ever had.
And his struggle against unseen forces is as much about redemption and self-knowledge as it is about cops and guns.
A youthful-looking 36, Hurwitz developed a taste for smart thrillers early. He grew up just outside San Francisco and by 8, he'd already written and illustrated his first mystery story. He went to Trinity College, Oxford to complete a Masters in Shakespearean tragedy.
The way Hurwitz sees it, the Bard was the world's first thriller writer.
"Macbeth is the perfect Mob story," he argues. "Othello is a great bodice-ripper about crime, passion and intrigue ... If you look at Shakespeare, what he wrote was intensive, story-driven tales."
"My inspiration with this book was to write the kind of story I loved so much when I was growing up. As well as being a page-turner, it has characters people can connect to and themes they might relate to."
Hurwitz describes crime stories as "cautionary tales" and believes they they teach people how to be courageous. "Crime fiction has in a lot of ways replaced the social novel," he adds. "The crime is a prism through which someone can understand a place or a theme."
Based in Los Angeles, Hurwitz juggles his fiction with work for the movie industry. Most recently he's been busy writing the heist scenes for the sequel to The Thomas Crown Affair, which he describes as one of the most fun jobs he's had. Although it can be a frustrating business, working on movie scripts suits him, he says, because he knows he always has his books. "I feel grateful to be in LA as a novelist primarily. I'm less in that particular rat race. No one cares what a novelist looks like for instance."
As a writer, Hurwitz is driven. "I'm up at 7am and I write till 5pm every day," he says. "If I'm stacking deadlines then I'll just keep going. I'm remarkably unpleasant if I don't get seven hours of sublimation in a day."
Married to a professor of psychology and with two daughters, Hurwitz puts a lot of himself into his books. "At times it's the ugly bits. But I draw so much from my life that it's hard to separate what's real and what isn't."
An insomniac, he gets his best ideas between 2 and 6am. "I'm constantly dreaming up scenarios. With Or She Dies I couldn't sleep and started thinking what if someone was recording me inside my house ... the whole story started to unspool inside my head. It's how I amuse myself."