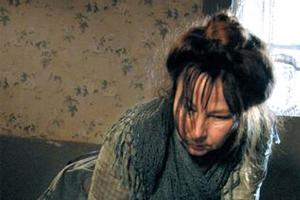 Rating: * * * *

Verdict: For lovers of art and gentle walks through the French countryside.
Seraphine is a gentle, leisurely paced and beautifully presented French biography of artist Seraphine de Senlis, a poor, simple housekeeper whose work was discovered by noted German art collector Wilhelm Uhde in the early 20th century.
Her work can be found in the town of Senlis, dotted around in other small French cities, and in the Museum of Modern Art in New York, but Seraphine is intriguing mostly because, though she remains a largely unknown artist, her story represents the many changes in the art scene at that time.
Not just an artist's biography, Seraphine touches on class and gender issues, mental illness, and the art establishment's attitude towards the "degenerate modern" style of painting by "naives" or "modern primitives", painters who weren't traditionally trained.
Wilhelm (Ukue) and his sister Anne Marie (Anne Bennent) meet Seraphine (Moreau) in 1912 when they rent an apartment just out of Paris in the small rural village of Senlis. A friend of Picasso and Braque, and the man who discovered Henri Rousseau, Wilhelm is delighted by a small still life painting he finds in his landlady's apartment, and is quite taken back to discover it's the work of his barefoot housecleaner, Seraphine.
Wilhelm encourages the shy "naive" Seraphine to continue painting, and although she appreciates his kind words, painting is not something she really does by choice; she paints because the heavenly voices in her head direct her to, and while she works tirelessly throughout the day at menial jobs, Seraphine spends her nights singing to the saints, and creating her own unique visionary landscapes.
With the war approaching Wilhelm leaves France, forgetting about Seraphine until he returns in 1927, settling in Chantilly. Attending a local exhibition he rediscovers her work and becomes her patron, which has both a liberating and disastrous impact on Seraphine.
Yolanda Moreau is stunning as this plain and delusional, yet extraordinarily talented, woman and there is nothing melodramatic about her performance, even as Seraphine loses her grip on reality.
Combined with director/screenwriter Martin Provost's fictionalised script which wisely avoids trying to explain the impossible - exactly what was going on in Seraphine's head and why - we're left with a sympathetic but not sentimental view of the artist.
Francesca Rudkin

Cast: Yolande Moreau, Ulrich Ukur

Director: Martin Provost

Running time: 121 mins

Rating: M (contains violence)