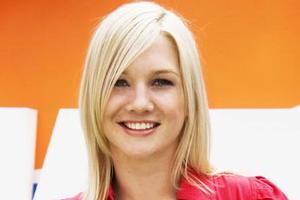 New Zealand dancer Hayley Holt says she is "disappointed" and "frustrated" at being unceremoniously dropped from the hit BBC show Strictly Come Dancing.
The blonde dancer featured on three seasons of the New Zealand show Dancing With The Stars.
Voted off the dance floor last year while partnering Peter Urlich, Holt moved to the BBC show and became the toast of the tabloids, partly because of her romance with All Black captain Richie McCaw.
But now she is shocked to have been given the boot - by email.
Holt, 28, told the Daily Mirror newspaper the "Strictly" bosses emailed her agent saying her services were no longer required, and did not phone her to explain their decision. "I'm not too sure why I wasn't asked back," she told the newspaper. "They didn't really give me a reason. It is frustrating."
But she added: "If they asked me back I would definitely consider it. I had a great time.
It was a whirlwind. Obviously it's hard work, but I enjoyed it. I'm going to miss it."
Holt came back to New Zealand during the summer to film Top Town, and lately has been promoting snowboarding at a South Island ski resort.
The Mirror reported the BBC's failure to provide a new contract for Holt followed a fuss over the axing of a Strictly judge, Arlene Phillips, 66, who was replaced with pop singer Alesha Dixon, 30.
Britain's Deputy Prime Minister Harriet Harman accused the BBC of ageism, and this week it was revealed the show is also retiring Karen Hardy, 39, to make way for a younger dancer.
Holt was taken aback by the changes. "I was surprised because Arlene is such a stalwart," Holt said. "I'm not too sure why they did that.
"Arlene is amazing. I hate to think it would have been because of her age, because people loved her - and I think Karen is one of the best dancers in the world."
A BBC spokesman said: "We contract dancers for one series at a time and the line-up is always subject to change. We thank Hayley for her fantastic contribution to the show. It is an amicable decision."
- NZPA