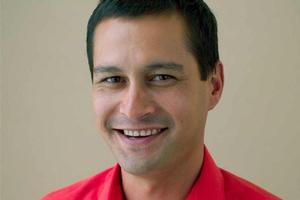 What's a 37-year-old bloke doing getting hooked on a TV show about teenagers doing drugs and partying hard?
That's the question I asked myself on Monday night while watching my new favourite show, Skins, on C4.
Is it an early mid-life crisis? Not likely, because I'm more than happy being a family man.
Or maybe it's a chance to relive my carefree, and sometimes reckless, days at high school. But compared to the kids on Skins, my bunking off to Back Beach in New Plymouth - which is about as bad as it got - is lame-as.
If it does take me back in time, it's to when British teen drama Grange Hill was must-see after-school viewing.
Although Skins' obnoxious loud-mouth, shagging-machine Cooky - you will despise him, but grow to love him - makes Grange Hill's bad boy, Tucker Jenkins, look like the teacher's pet.
Another big difference between Grange Hill and Skins is that the teens on the old show actually go to school, whereas Cook and his mates are hardly ever in the classroom.
They're too busy smoking pot and, in one of the best episodes yet, crashing the parties of brutal and psychotic gangsta Johnny White, played brilliantly by Mackenzie Crook (best known as gormless Gareth from The Office).
However, I can safely say my fondness for Skins is nothing to do with reminiscing.
Quite simply it's a clever, hilarious, shocking, and totally over-the-top show. There's tears, snorting, and, for want of a cooler word, bonking (in wardrobes, of all places).
In fact, upon first seeing Skins, I was taken aback by what British youth get up to. A parent of teenagers might well be horrified too.
But fear not, Mum and Dad, because there is no doubt that Skins is brilliantly over-the-top, and it's all in the name of entertainment.
It's also a refreshing change from the glut of crime and reality shows populating the box.
The first two series of the show were good. The third series is a cracker as we meet an all-new cast who are the younger brothers and sisters of the characters from the first two series.
Of the lads there's Cooky of course, who's a right menace; as well as good-looking and sensitive Freddie, geeky but likeable J.J, and Thomas, a kind-hearted Congolese immigrant who has a penchant for rapping and eating chillies.
And the girls' gang is made up of the beautiful and popular Effy; twins Katie and Emily Fitch, who are chalk and cheese with the latter a lesbian; fiery and ambitious Naomi Campbell and lastly sweet and innocent Pandora (aka Panda). Well, she was sweet and innocent until Cooky ... anyway. Enough of dirty Cooky.
I didn't realise this at first - because I'm old and not as quick on the uptake these days, I guess - but, as a younger, more savvy colleague pointed out, every week Skins focuses on a new character. This means there are limited repercussions from the carnage wreaked during each episode.
For example, this week Panda threw a party and, when her mum passed out from eating brownies spiked with Ecstasy, it got out of hand. But because the episode ended before her mum came to, we'll never find out what her reaction was and whether Panda was punished. Bloody teenagers. They get away with murder these days.
So take a trip back to your teens for one hour a week with Skins - it'll be even more wild and reckless than you remember.