Clint Eastwood's take on the hit musical might know how to hold a tune but it sure lacks for pop excitement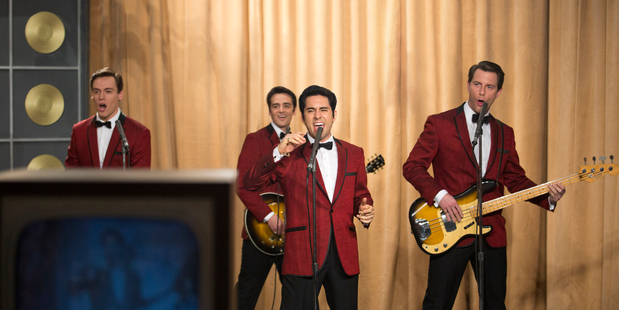 It was always inevitable that with the success of Jersey Boys the musical - from Broadway to Queen St and back - that the Four Seasons' falsetto harmonies would be blowing dust from the treble end of the world's cinema speakers.
After all, Jersey Boys was a stage pop-musical rarity - it had a story.
It didn't attempt to join the dots between those greatest hits with the narrative nonsense of a Mamma Mia! or a We Will Rock You. No, with its tale of how Frankie Valli and the Four Seasons conquered America only to falter at the top, the musical played like a movie.
It even had a Rashomon-like narrative, with each of the band taking turns to recall events as they remembered them.
There was also that stage show scene where the audience is suddenly behind the band looking out into an adoring audience, just out of focus, all delivered in a spectacular freeze-frame.
For me, seeing the stage show in Auckland's Civic a few years back was the point when I got over my slight allergy to the Four Seasons' perpetually shrill before-my-time songbook and realised that this is a great show.
Given its cinematic leanings, it would seem that the groundwork had been done for Jersey Boys to burst off the screen, just like it did off the stage.
Except it doesn't.
No, Watching Jersey Boys the film is a bit like watching the show from the front row but with the sound and the lights turned way down and the theatrical melodramatics replaced with Goodfellas-lite.
Yes director Clint Eastwood is an accomplished maker of music biopics (Bird) and music documentaries, as well as composing his own soundtracks over the years. He's also a director who lived through the band's early 60s heyday - there's a cameo of him in this, on television in Rawhide.
But Eastwood is a sit-down jazz buff, not a song and dance man.
Jersey Boys is meant to be about the thrill of striking a pop goldmine in unlikely territory - the mean streets of New Jersey, where Frank Sinatra was king - but the movie sure is light on inducing any sense of hitting-the-bigtime thrills.
Eastwood certainly hasn't strayed far from his understated delivery of old. That's apparent right from the film's remarkably uninspiring opening credits. Eastwood's no-fuss style in a musical - surely the fussiest of genres - leaves Jersey Boys as a movie that still raises a few laughs but only occasionally bursts into life.
Three out of four of the main cast are veterans of the Broadway production. That includes John Lloyd Young as Frankie Valli, whose reproduction of the star's helium-powered voice remains impressive, even if the live-to-camera performances are occasionally wobbly.
He and the two other stage Four Seasons (Erich Bergen as the band's song fountain Bob Gaudio and Michael Lomenda as bassist Nick Massi) don't have as much screen presence as the newbie, Vincent Piazza (Boardwalk Empire's Lucky Luciano) as the band's resident scoundrel, Tommy DeVito.
So the dramatic scenes don't feel like a fair fight.
Especially those involving Christopher Walken who, as Gyp DeCarlo, takes Frankie under his Godfather-like wing after the young man's crooning of My Mother's Eyes leave the mob boss with tears in his.
The Joisey mob backdrop to the musical is front and centre here care of DeCarlo's looming presence, which might be Eastwood injecting some grit and reality into the sugary tunefest.
But that onset of reality only goes so far. This Jersey Boys still exists in its own bubble. There's no mention of a certain English band-grabbing market share from 64, for instance. And Valli's own tragedies - his divorces and the death of his daughter - aren't dwelt upon any more than they were on stage. There's not a lot of change to the story structure from the musical, which runs only 15 minutes longer than the film.
Each of the Four Seasons are still the unreliable narrators of their own story, their asides to camera making you worry a young Francis Underwood is about to join the band.
There's plenty of amusing period detail. The band's off-stage costumes deliver a remarkable history of the colour brown in 60s and 70s male fashion but it's all shot in a washed-out tone that might suggest more innocent days but just feels like part of the film's curiously muted take on the original production. Like, where is Baz Luhrmann when you need him?
True, when Working My Way Back to You strikes up, or when Young-sings-Valli sings the symphonic pop of Can't Take My Eyes Off You for the first time, it can remind of the spark of the musical.
But for a movie about the Four Seasons, this sure lacks spring.
Verdict: Too true to be good.

Cast: John Lloyd Young, Erich Bergen, Vincent Piazza, Michael Lomenda, Christopher Walken
Director: Clint Eastwood
Rating: M (offensive language)
Running time: 134 mins