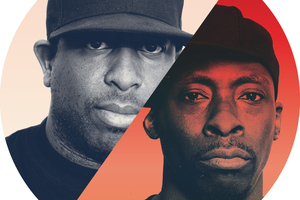 Can you make people dance to a hip-hop history lesson?
It's quite an ambition but if anyone can do it, it's Pete Rock and DJ Premiere - two of rap's most well known producers with decades of experience between them.
Premier promised their joint show at Auckland's Powerstation - a collaboration project they've been touring off-and-on for seven years, but has only just reached New Zealand for the first time - would be both "educational and entertaining".
And when they kicked things off with a 20-minute medley of funked-up James Brown hits, it showed they also wanted to honour and inform those present of their deep respect for hip-hop's roots.
That sometimes meant their nearly three-hour battle-style show, which saw the pair trading songs via a collection of laptops and turntables set up across the stage, occasionally veered a little too deep into an enforced hip-hop history lesson.
That Brown segment did drag as an opening to a show many thought would be based around the pair's production prowess - and Premier seemed to show flashes of anger when the packed Powerstation crowd's reaction slowed.
But things picked up during a fascinating and lengthy segment that saw the pair play the original songs sampled by some of hip-hop's biggest hits, followed by the songs in question, sparking frantic guessing game celebrations amongst crowd members.
Featuring Eminem, Snoop Dogg, Busta Rhymes, Dr Dre, Tupac, Wu-Tang Clan and Premier's own Gang Starr, it fulfilled the show's brief a little better as both a tribute to the producers of those hits, and the tracks that inspired them.
It was also a mixed-up party starter that - judging by the crowd's euphoric reaction to bass-heavy songs like Mobb Deep's Shook Ones Part II and Dre's Still Dre - might have been a better option to begin the show with.
The second half of their set included a segment dedicated to Nas' landmark release Illmatic, which had three tracks produced by Premier and turned 20 earlier this year, as well as a series of hits produced by the late, great J Dilla.
It might have been nice to hear what the pair thought of hip-hop's current trends - but the fact they didn't play much new stuff may have said it all. This was a dance down hip-hop's memory lane, hosted by two of the best in the business.
DJ Premier & Pete Rock
Where: The Powerstation, Auckland
When: Saturday, May 10
- nzherald.co.nz