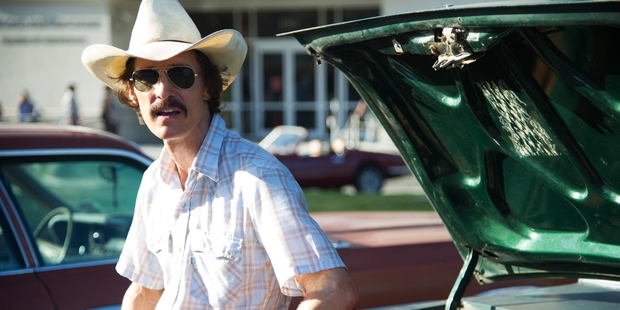 The real-life story of a Texas rodeo rider-turned-medical activist makes for a refreshingly unsentimental but ultimately conventional, even shallow, drama in the hands of director Vallee.
The skeletal McConaughey eats up the role of Ron Woodroof, a man of profligate sexual appetites who is diagnosed with HIV and told he has 30 days to live. Needless to say, he rejects the idea that he might have caught "a queers' disease", but once his symptoms start mocking his denial, he isn't much impressed by the number of medications that are not officially approved.
He starts obtaining drugs from non-accredited clinics in Mexico, setting up the club of the title to get around restrictions on sale: buy a $400 membership and get free drugs.
McConaughey creates an energetic and iconoclastic character and Leto, as the flamboyantly transgendered Rayon, is a great foil for him (both are Oscar-nominated). Even if Leto's role has more of the stereotype about it, the process by which Rayon moves from object of loathing to colleague to best pal is plausible and touching.
But the film as a whole is a long character study which lacks both nuance and context. There is no attempt to engage with its problematic implications, moral, political, ethical and clinical: for example, a homophobic straight man sells untested drugs to gay men (though not all: one turns up with $50 and Woodroof tells him to "come back when you've got the other $350").
Meanwhile, the relationship Woodroof strikes up with a friendly doctor (Garner) is formulaic and without dramatic heft.
It's an entertaining film, but when the character journey leads only to his learning to hug a trannie, you can't help feeling a bit cheated.
Cast:
Matthew McConaughey, Jennifer Garner, Jared Leto, Denis O'Hare, Steve Zahn
Director:
Jean-Marc Vallee
Running time:
117 mins
Rating:
R16 (sex scenes, violence, drug use, offensive language).
Verdict:
Less than the sum of its parts
- TimeOut