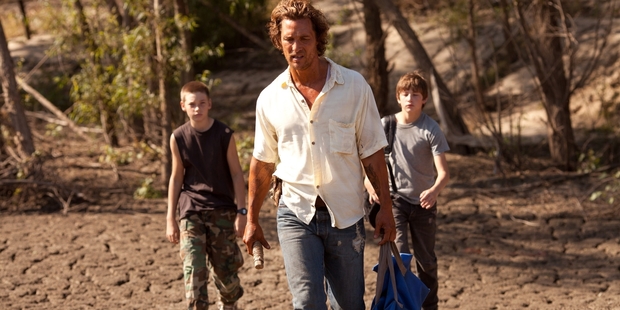 There are few genres Matthew McConaughey hasn't tried. He's covered historical drama (Amistad), sci-fi (Contact), slasher (Texas Chainsaw Massacre), war (U-571), comedies (EdTV) and action (Sahara) - and of course he got stuck into rom-coms last decade. More recently, though, he's been taking on serious roles with his performance in Mud, a fine example of McConaughey graduating from film star to actor.
A character-driven coming-of-age story, Mud is a mix of fairy tale romanticism and gritty reality set in Mississippi. A little like Beasts of the Southern Wild, director Nichols conjures up a timeless Southern world resisting the encroachment of the real world, told through the eyes of 14-year-old Ellis (Tye Sheridan).
Everything is changing in Ellis' world: his parents' marriage is disintegrating, there's talk of moving out of their river house and into town, and his experience of first love isn't working out the way he'd hoped. Just as he's learning life and relationships can be complex and disappointing, Ellis meets Mud (McConaughey), a charismatic fugitive hiding on an island on the Mississippi River, who allows him to hang on to his sense of romanticism.
Mud convinces Ellis and his best friend, Neckbone (Jacob Lofland), to help him rebuild a boat so when Juniper (Witherspoon), the love of Mud's life, turns up, they can escape together. The boys become Mud and Juniper's go-betweens, and when a group of bountyhunters arrive in town looking for Mud the boys are determined to see the lovers escape and live happily ever after.
Like Nichol's previous films, Take Shelter and Shotgun Stories, Mud is centred on men - young and old - struggling with life.
For the most part it's a sweeter and gentler film, although more sinister themes based on vengeance and violence emerge in the final act. It's a fraction long and Nichols gets a little distracted by peripheral storylines, but the performances are uniformly excellent.
Sheridan and Lofland are superb as Ellis and Neckbone, easily delivering the breadth of emotion required of their roles. Their adventure brings to mind Stand By Me with a touch of Mark Twain, and Nichols' lingering shots of the natural world are comparable with the work of film-maker Terrence Malick.
McConaughey, too, is captivating, full of easy charm, nervous energy and a Southern drawl that sounds divine.
Complemented by excellent supporting actors, including Ray McKinnon and Sarah Paulson as Ellis' parents, Mud has a stellar cast. Nichols knows they'll do the heavy lifting for him, and his nuanced direction and thoughtful visuals lets them do exactly that.
Stars:
4/5
Cast:
Matthew McConaughey, Tye Sheridan, Reese Witherspoon
Director:
Jeff Nichols
Running time:
130 mins
Rating:
M
Verdict:
Fairy-tale romanticism and gritty reality make up this coming-of-age story
Follow @nzherald_ent on Twitter for all the latest entertainment news.
- TimeOut